OPINION: Metropolitan planning has a surprisingly long pedigree in Australia. Practices have evolved steadily in response to shifting large-scale urban problems. However, capital cities today present a suite of complex issues that challenge planning systems and demand better alignment between problem and response.
In major cities across Australia, there's a stark contrast between lofty planning goals and the sprawling reality on the ground. Central to the story of each capital city is the evidence, after three decades of market-driven development, of a divide in access to opportunities and experiences.
In Sydney it has been dubbed the "latte line". This is the divide between inner suburbs (affluent, dominating knowledge economy jobs, more likely to benefit from urban design initiatives) and outer suburbs (declining manufacturing employment, poor access to services and high car dependency).
The dominance of metropolitan development is not unique to Australia. Metropolitanisation has been described as "one of the most powerful trends shaping worldwide systems today".
In The Metropolitan Revolution, Bruce Katz of the Brookings Institution notes the fundamental importance of the urban in national affairs. This rests on a "simple but profound truth: cities and metropolitan areas are the engines of economic prosperity and social transformation".
Bruce Katz discusses the metropolitan revolution.



This global trend has led to calls for a global "Metropolitan Compact" to advance the UN's New Urban Agenda. These are based on the need to strengthen connections between government, civil society, industry, academia and media.
This has obvious relevance to Australia. The major cities dominate settlement patterns and population growth. Two-thirds of Australians live in a capital city.
Taking stock of urban divides
Some of Australia's leading urbanists have contributed to a new book, Planning Metropolitan Australia, with essays examining the spatial strategies governments have used to try to manage Australian metropolitan development in the 21st century.
These strategies are set against a dynamic background of economic change, spatial restructuring and a more diverse population with rising social and spatial inequality.
The book identifies a broad planning consensus about making metropolitan areas more compact and resilient. But there is a persistent gulf between the high-level aims of such strategies and our growing understanding of the complexity and diversity of the communities in which most people live.
So, what has been done in recent times?
Recent planning system reforms have been similar in most capital cities. These include:
simplified planning instruments across local council areas
reduced rights of appeal
a limited role for local councillors in assessing development proposals
a correspondingly increased role for state agencies or expert professional bodies.
As for the achievements of metropolitan plans, these too are increasingly similar. A wider variety of dwellings is being built in a range of locations. High-rise apartments (of variable quality) are increasingly evident in the central and inner city as plans seek higher density targets.
But metropolitan plans have generally failed to provide affordable housing. Most have also fallen short of their aspirations for higher use of public transport. This is largely because of inadequate investment in infrastructure. Where public transport use has increased, this has mostly involved journeys to the CBD or within the better-served inner suburbs (where most increases in walking and cycling are also observed).
Employment in middle and outer suburbs remains sparse. Poor access to job opportunities in these areas has generally added to labour market inequalities.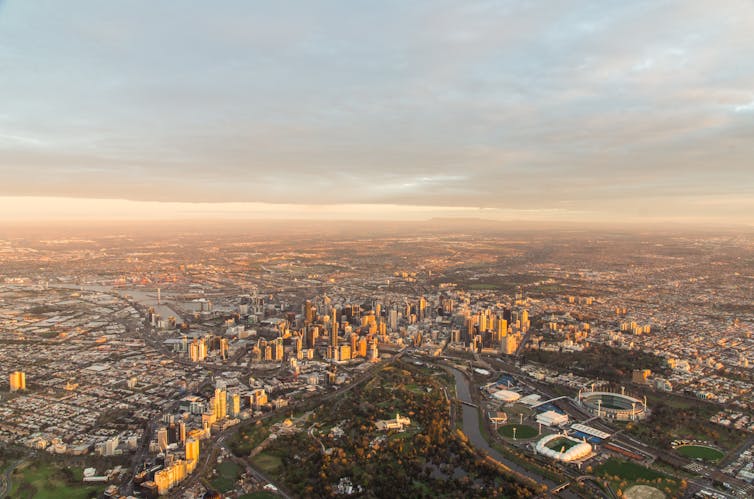 A vast gulf persists between the metropolitan planning vision of compact, equitable cities and the sprawling reality. Photo: Shutterstock
Rethinking neoliberal governance
In 2006 Clive Forster observed that Australian metropolitan plans were not sufficiently informed by the findings of urban research. He noted:
… the existence of parallel urban universes: one occupied by metropolitan planning authorities and their containment – consolidation – centres consensus; the other by the realities of the increasingly complex, dispersed, residentially differentiated suburban metropolitan areas most Australians live in.
In a concluding essay to Planning Metropolitan Australia, Brendan Gleeson picks up the notion of "parallel universes". He suggests Australian cities under weak metropolitan planning arrangements have made little progress towards long-held aspirations for sustainable resource use, social justice, inclusive and innovative economies, and more compact urban forms.
Rather, under neoliberal governance regimes, other forces have largely shaped our metros this century. These include national immigration, tax and finance policies, disruptive technological innovations, cultural shifts and increasingly dominant market power.
As we move deeper into the "metropolitan century", more effective, nuanced, evidence-based metropolitan planning and governance arrangements become ever more urgent.

Planning Metropolitan Australia will be launched at the State of Australian Cities Conference being held in Adelaide from November 28-30.
Robert Freestone is Professor of Planning in the Faculty of Built Environment at UNSW.
Stephen Hamnett is Emeritus Professor of Planning at University of South Australia
This article was originally published on The Conversation. Read the original article.