In 1965, when Donald Finley, the news and information officer at Australia House, persuaded London art dealer Wildenstein & Co to introduce the English public to the work of a man then called "Australia's Lost Impressionist", the artist's name was changed. In order to prevent confusion with John Russell, an 18th century English portrait painter, a middle name was inserted. So the world came to know of art by "John Peter Russell", a name unfamiliar to its Antipodean owner. It is only in recent years that John Russell's name has been reclaimed for his art.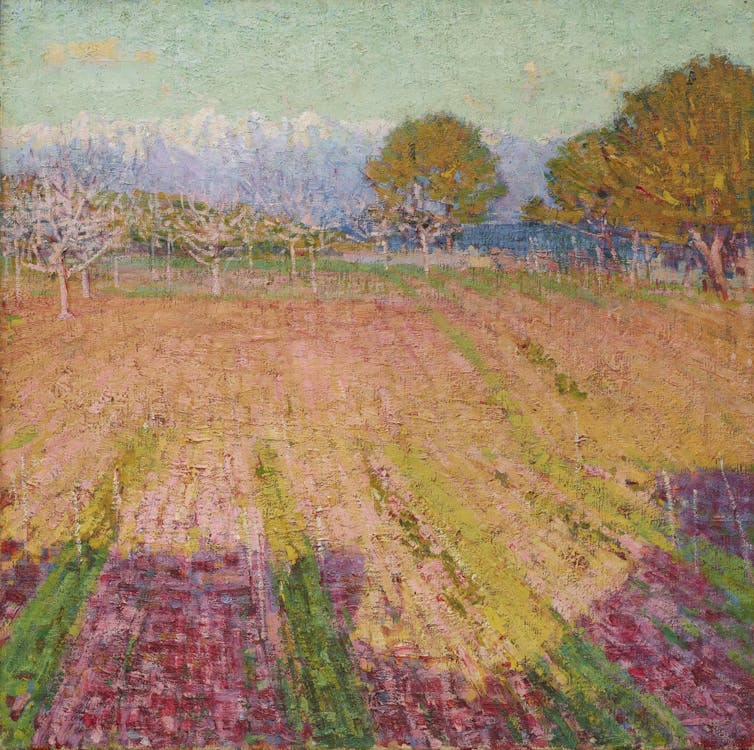 John Russell, In the afternoon ,1891. Photo: Art Gallery of NSW, Mim Stirling
In this exhibition, at The Art Gallery of New South Wales, Wayne Tunnicliffe's curatorial vision gives Russell his due as an artist interacting with his colleagues: sending information and ideas to Tom Roberts in Melbourne, supporting the angst-ridden Dutchman Vincent Van Gogh, mentoring the young Henri Matisse, learning from the virtuoso Claude Monet and establishing a life-long friendship with Auguste Rodin.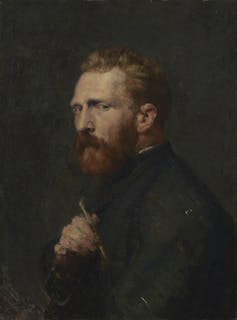 John Russell, Vincent van Gogh,1886. Photo: Maurice Tromp
The exhibition gives physical evidence of the full extent of Russell's connections to his many colleagues. The well known portrait of Van Gogh sits alongside a Van Gogh self portrait of the same period, linking the paintings by both style and subject. Magically, it also includes Van Gogh's drawing, Haystacks. Given by the artist to Russell, he in turn gave it to the young Matisse.
The two Matisse paintings, showing an uncharacteristic bravura brushstroke, were the result of a visit to Russell at his home in Belle-Île, Brittany. Some years earlier Russell had seen Monet painting Belle-Île, and had introduced himself. Monet's Port-Goulphar, Belle-Île of 1887, which is in the collection of AGNSW, shows the degree to which the master influenced the student's development, purifying his colour and freeing his brushwork, effectively turning him into an Impressionist. In letters to Alice Hoschedé, Monet expressed pleasure at dining with the Australian (who he called an American). Russell was independently wealthy and so employed an excellent cook, much appreciated by the older artist.
Russell was born in Sydney, the son of the engineering family, P.N. Russell & Co, which was responsible for much of 19th century Sydney's ironwork. His father believed his son was destined to join the family business. Unlike other wealthy young Australians, Russell was not educated at Oxford or Cambridge, but instead was sent to England to become a "gentleman apprentice" engineer. His father's death in 1879 gave him the freedom to leave industry and turn to art.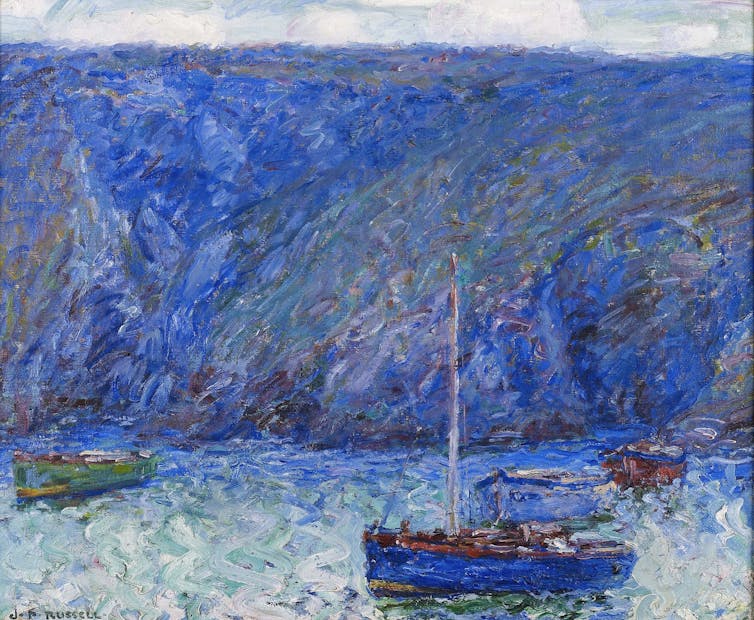 John Russell, Morning, Cruach en Mahr, Belle-Île-en-Mer, c1905. Photo: Nevill Keating Pictures, London
It may be that his years at the ironworks at Lincoln led him to value realism over classicism, but when he first enrolled as an art student, Russell chose the realist approach of the Slade, where he was taught by the French artist Alphonse Legros. This was in contrast to the sedate Royal Academy School, usually favoured by colonials. Later, in Paris, he did not join fellow international students at the open studio of the Academie Julian, where the masters from the Ecole des Beaux-Arts would make a weekly appearance.
Instead, he enrolled at Fernand Cormon's small studio school where approximately 35 mainly French students had a more intensive program. Fellow students included Toulouse Lautrec and Emile Bernard, but they were soon joined by an intense, very eccentric older Dutchman, Vincent Van Gogh. The ensuing friendship between these two was perhaps shaped in part by Russell's independence of spirit, as to the Parisians he was an archetypal "wild Australian" who would always be a bit of an outsider.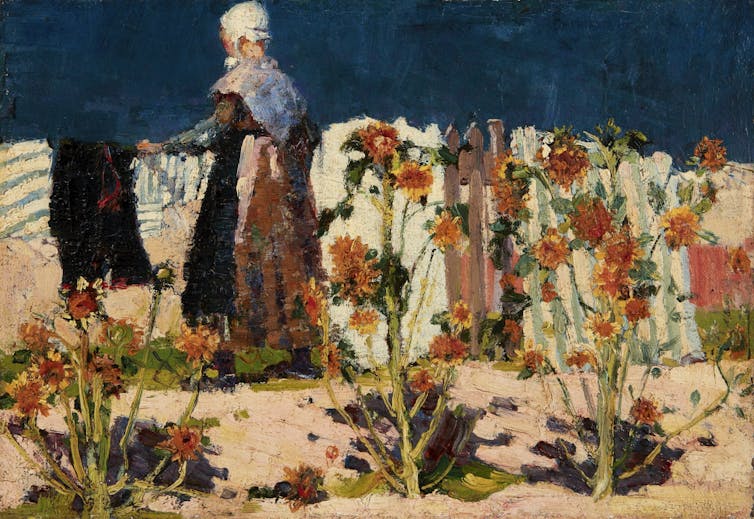 John Russell, Peasant woman with sunflowers. Photo: AGNSW, Jenni Carter
The exhibition traces Russell's career beginning with an early self-portrait painted in Sydney and his travels in Granada with Tom Roberts. Some of the most beautiful drawings are of Marianna Antoinetta Mattiocco, the model who became his mistress and then his wife. They show her tactile beauty, the smooth tranquillity of her face, the elegance of her form. In 1888, shortly before they married, Russell wrote to Rodin, requesting an introduction so that the sculptor might make a portrait of the new Madame Russell. Marianna Russell became the subject of several portrait busts by Rodin, some of which are included in the exhibition.
John Russell, Almond tree in blossom, c1887. National Gallery of Victoria, Joseph Brown Collection. 
Russell did not immediately move towards Impressionism. At first, under the influence of Van Gogh, he started to compose works influenced by the asymmetry of Japanese woodcuts. Both he and Van Gogh admired almond blossoms, evoking in paint their transient beauty. In 1887, just after the death of his first son, Jean Paolo, Russell painted a series of blossom paintings and it is not too hard to see these as a tribute to that brief life.
One of the great joys of this exhibition is the large group of works painted at Belle-Île, where the Russells made their home. There are paintings of domesticity, with children, as well as some of the local people at work, but best of all is the wall displaying a series of paintings of the great crashing waves, where the artist's rapid strokes define the foam and swirl of water.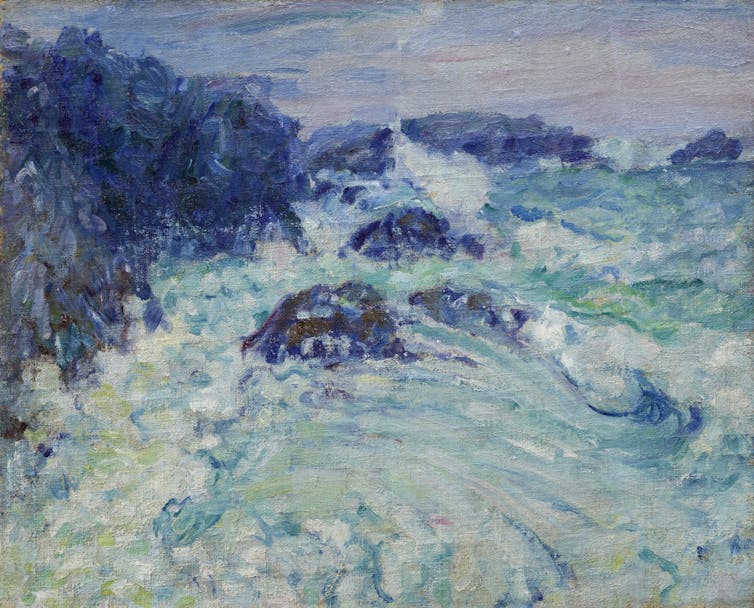 John Russell, Rough sea, Morestil c1900. Photo: Art Gallery of NSW, Jenni Carter
The beauty of gardens
The turbulence of these works is contrasted with the luminous beauty of the landscapes he painted on visits to Antibes on the Riviera. Russell took great pleasure in the tranquil beauty of gardens, of flowers in season and the pattern of blossom. The last work in the exhibition, Mrs Russell among the flowers in the garden of Goulphar, Belle-Île 1907, shows a painstaking layering of a medley of colour as the field blossoms seem to move in homage to the one small, white-clad figure. At the time he was painting this Marianna was dying of cancer. He left Belle-Île soon after.
John Russell, Mrs Russell among the flowers in the garden of Goulphar, Belle-Île 1907. Musée d'Orsay, Paris. 
There are a number of reasons why Russell remained little known until decades after his death in 1930. Despite remarrying in 1912, he did not settle in one place for any length of time. The disruption of World War I led the family to relocate to England.
In 1921 Russell returned to Sydney, where after holding one exhibition at the Sydney Camera Circle, he ceased to exhibit. His last paintings of orange roofed bungalows overlooking the Harbour give the reason why. These modestly painterly works would have seemed extreme for a Sydney that only accepted modern art if it was smooth and flat.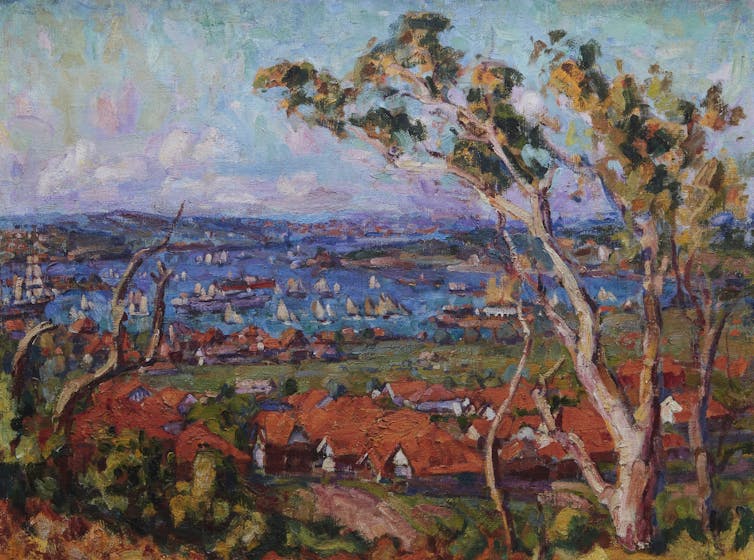 John Peter Russell, Regatta, Rose Bay 1922. Photo: Art Gallery of NSW, Jenni Carter
Russell's cousin Thea Proctor, one of the most influential tastemakers of her generation, ensured that he was not forgotten after his death. Thanks to her advocacy he appears in William Moore's 1934 Story of Australian Art as a colleague of Tom Roberts and a friend of Rodin. In her later years, she continued to urge the AGNSW to acquire his work and also ensured that Bernard Smith knew of him when he was writing his definitive Australian Painting 1790-1960.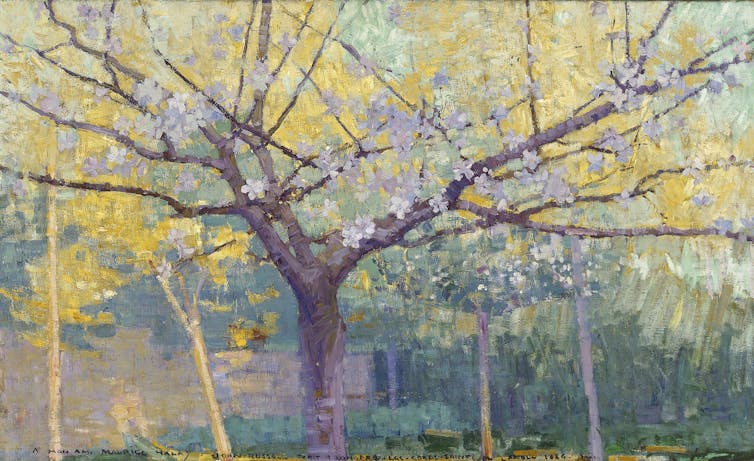 John Russell, The garden, Longpré-les-Corps-Saints, 1887. Photo: Art Gallery of NSW, Jenni Carter
This is the second Russell exhibition to be organised by the gallery. The first, The Art of John Peter Russell of 1978, also exhibited at the Van Gogh Museum in Amsterdam, was the result of Ann Galbally's 1975 PhD thesis.
Galbally has also contributed an essay to the current substantial catalogue, which includes transcripts of correspondence between Russell and Tom Roberts, Van Gogh and Rodin. While the earlier exhibitions established the breadth and quality of Russell, in this exhibition Tunnicliffe has shown the network of connections between artists, crossing national boundaries.

John Russell: Australia's French Impressionist is on view at the Art Gallery of NSW, Sydney until 11 November 2018.
Joanna Mendelssohn is Honorary Associate Professor, UNSW Art & Design and Editor in Chief, Design and Art of Australia Online, UNSW.
This article was originally published on The Conversation. Read the original article.