Upon entering one of the smaller gallery spaces within this major survey exhibition of works by South African photographer David Goldblatt, the gallery attendant warns us that some viewers might find this particular series distressing.
We turn to the dark-haired, well-groomed woman standing next to us and say: "Have you ever seen photos of ex-offenders taken at the place they conducted their crimes?"
She turns to us, smiles, and says: "This is my father's work. He did this series after he and my mother were attacked, once in the street and once at home. He wanted to meet these people, find out who they were."
Like Goldblatt's daughter Brenda and her family, very few South Africans are untouched by the violence that continues to plague the country.
The series Ex-Offenders is certainly troubling, but not for any explicit visual depiction of violence and crime. Instead, the black and white portraits of men and women convey a quiet earnestness. As if to contradict the calmness, the harrowing wall texts that accompany the images detail the circumstances of their criminal actions and subsequent experiences of incarceration.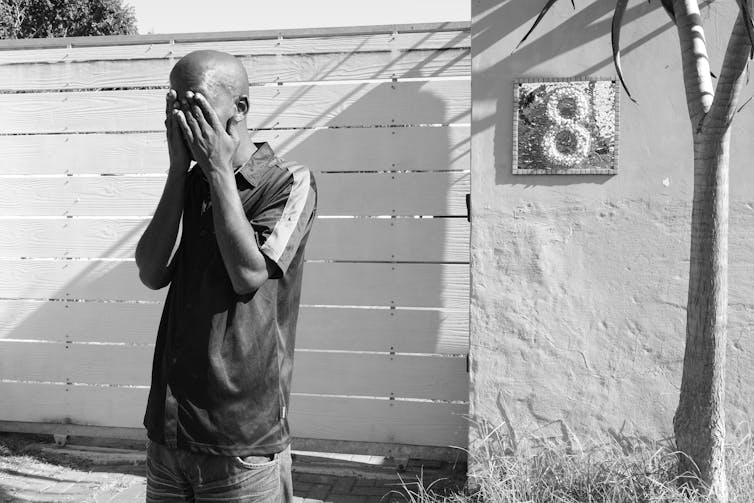 Xolani Seko stands weeping outside the house where, in 1995, his erstwhile employer was accidentally killed after attempting sex with Xolani, East London. May 21 2016. silver gelatin photograph on fibre-based paper Image courtesy Goodman Gallery, Johannesburg and Cape Town, and Pace/MacGill, New York © The David Goldblatt Legacy Trust
In fact, following an historical tradition of social documentary photography, Goldblatt refrained from documenting chaotic scenes of violence and destruction, such as the devastating 1976 Soweto uprising where black student protests were met with deadly police gunfire. Instead, he focused his camera on the structural inequalities, everyday violence, poverty and racism of South African society both during and post-apartheid.
In these rooms of photographs, there is evidence of the hopes and inevitable failures of the apartheid era: street signs indicating racial division; the long bus trips of black workers commuting between the township of Soweto and the white city of Pretoria; the back-breaking labour of miners; black men clutching their "dompas" (government-issued passbooks); and the humble lives of the Indian and Malay community in Fietas who were forcibly removed in the 1970s to accommodate white people.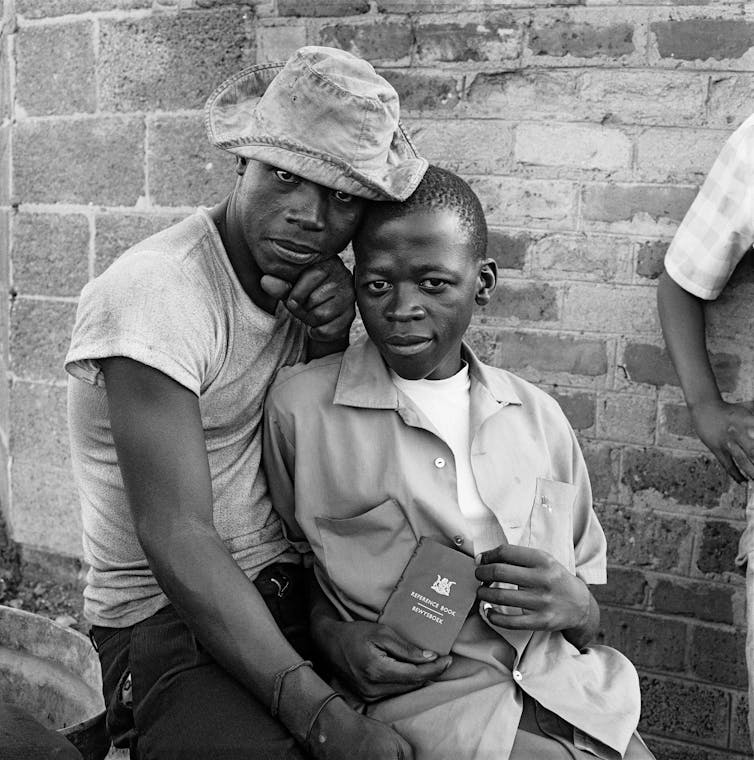 Young men with dompas (an identity document that every black South African had to carry), White City, Jabavu, Soweto 1972. silver gelatin photograph on fibre-based paper Image courtesy Goodman Gallery, Johannesburg and Cape Town © The David Goldblatt Legacy Trust
Goldblatt's exhibition, curated by Rachel Kent, is consistently permeated with an empathetic kindness and sensitive calmness, which nevertheless exists within the confines of a morality minefield, where ethics are complicated and the observer is far from neutral.
In the vein of Lewis Hine, Walker Evans, Dorothea Lange and, more recently, Sebastião Salgado, Goldblatt (himself the grandson of persecuted Lithuanian Jews) was committed to documenting the lives of the less fortunate with the aim of shining a light on social injustice.
While this no doubt required empathy, relatability and even courage at times, it must also bear the indelible burden of the white, privileged gaze – a point we make less as a criticism of Goldblatt and more to underline the construction of his work.
Who will be remembered as the hero?
Considering the wealth of feminist and neo/post-colonial scholarship, this is not a new issue, but it always raises the question – who gets to tell the story? Who gets to go down as hero in history – the writer or the written? The photographer or the photographed? It is part of a common colonial story.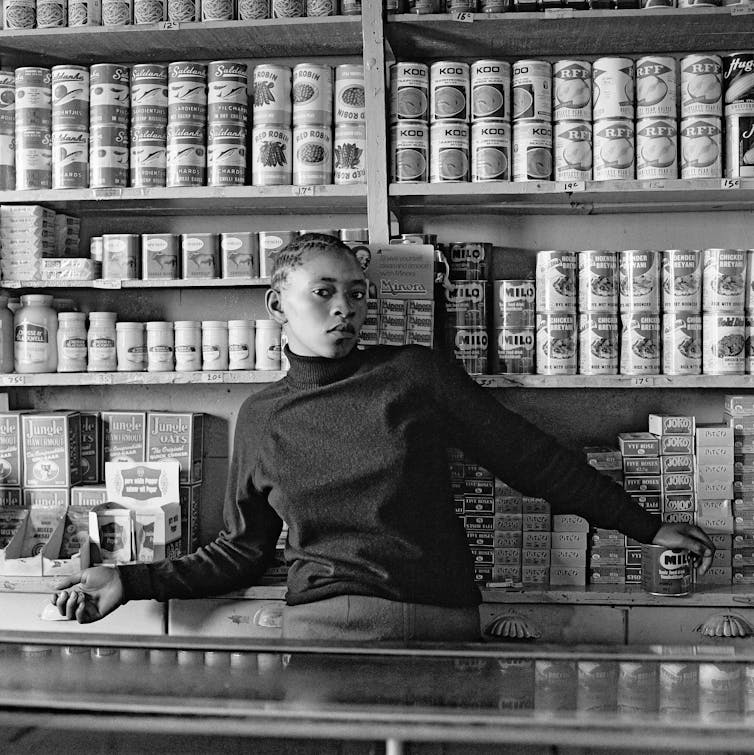 Shop assistant, Orlando West, 1972 silver gelatin photograph on fibre-based paper. Image courtesy Goodman Gallery, Johannesburg and Cape Town © The David Goldblatt Legacy Trust
In an effort to remain "true" to the solemnity of apartheid, Goldblatt rarely photographed his subjects in colour, considering the rich contrast afforded by black and white photography more appropriate. However, by the early 1990s, he increasingly used colour and larger-format prints, which (not coincidentally) corresponded with the end of apartheid policies and the election of Nelson Mandela in 1994.
In fact, Goldblatt photographed Mandela. The photographic session took place at 5am. Mandela's minders wanted him posed in his living-room chair but Goldblatt insisted on a high-backed kitchen chair, in order to impart a distinguished air to the image.
Despite Goldblatt's turn to colour, the later photographs are far from a garish or naïve celebration of post-apartheid life. The series In the Time of AIDS, exhibited in the more cavernous spaces of the MCA, is subdued in muted greyish tones.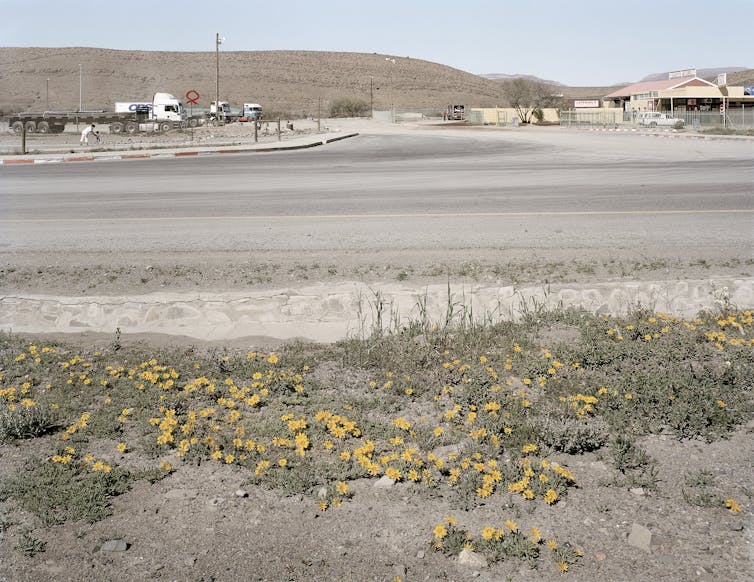 In the time of AIDS – The first day of spring at Lategan's Truck Inn on the N1, Laingsburg, Western Cape 2006, digital print in pigment inks on cotton rag paper. Image courtesy Goodman Gallery, Johannesburg and Cape Town © The David Goldblatt Legacy Trust
The motif of a red ribbon, intended to stand out and raise awareness of HIV/AIDS, instead blends with the rural landscapes to function as an indictment of the virus's ubiquitous presence in everyday life. Goldblatt likened the ribbon to a "stale advertisement for an unwanted product".
In a contemporary culture that is saturated with images of death, homelessness and war, it is perhaps the quiet stillness of Goldblatt's photographs that make them a little unnerving. Perhaps it is the way the subjects directly meet our viewer-gaze that makes us feel complicit in the acts perpetrated against them.
Perhaps it is the brutality, behind the images but never fully extrapolated, that makes us a little uncomfortable, or a little plagued by white guilt? And yes, this no doubt is the point of Goldblatt's life's work: to insist that we do not look away and pretend it didn't happen.
---
David Goldblatt: Photographs 1948-2018 is exclusive to the Museum of Contemporary Art Australia running from October 19 to March 3 2019.

Prudence Gibson, Art writer and Tutor, UNSW and Emma Crott, Associate Lecturer, UNSW
This article is republished from The Conversation under a Creative Commons license. Read the original article.