OPINION: Virtual reality technology is making it far easier to connect with remote Indigenous Australians. Carriberrie, a mesmerising 360-degree, live-action documentary film showing at the Australian Museum in March, illustrates how well immersive technology can transcend cultural boundaries.
Viewing this 12-minute film, I am teleported to breathtaking Australian locations, from the heart of the outback to the rainforest, drawn in by the hypnotic rhythm of traditional song and dance. Various scenes take you to remote communities, where people share their connection to the land through corroborree – the Aboriginal dance ceremony. "Dance," the film's narrator David Gulpilil says, "is the first language of our people."
Against the backdrop of a pre-dusk sky, I stand among the Anangu women, the traditional owners of Uluru-Kata Tjuta. They stamp their feet into the red dusty earth. In the final scene, I am surrounded by Mayi Wunba dancers. They share their story as if just with me. At times, their gaze breaks the fourth wall. It is hauntingly intimate. I feel as if I am a traveller welcomed like a friend into a local's home.
This sense of visceral presence is what makes immersive technology such a powerful medium for exploring real-world issues. Australian filmmaker Lynette Wallworth has gained international recognition for similar work. Collisions (2016) and more recently Awavena (launched at this year's Sundance New Frontier program) use 360-degree film to share the unique world view and stories of Indigenous peoples around the world. 
As Chris Milk, multi-award-winning director and immersive artist, has argued in a widely viewed Ted talk, one of the promises of virtual reality (VR) is its potential for building empathy. VR works do this by exposing you to experiences and perspectives that you feel you have actually lived.
Alejandro Iñárritu's Carne y Arena (2017), for instance, a VR installation at the Los Angeles County Museum of Art, is a live-action dramatisation of actual immigrant stories. It puts the viewer in the shoes of Mexicans to share their plight crossing the US border. Carne y Arena creates empathy by giving audiences the feeling of personally experiencing immigrants' hardships.
A 360-degree film that doesn't invite some form of viewer participation can feel too distant, failing to create a sense of immersion. Carriberrie immerses you by replicating the personal experience of a front-seat performance. A potential limitation, the solitary nature of wearing a VR headset, is embraced by the film's director Dominic Allen. Watching his film feels like a personal dialogue between the first peoples, me and their land.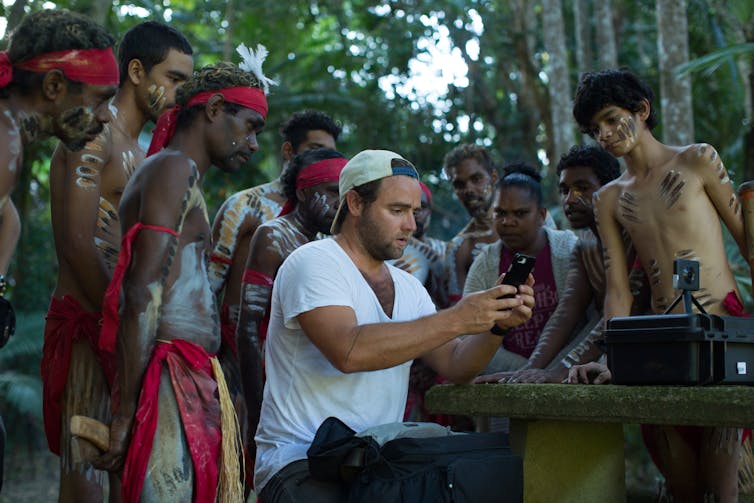 The 360-degree aerial footage in Carriberrie, which allows you to look around as you "fly over" the terrain, is one of the film's standout innovations. I look down over the water-stained plains as a flock of magpie geese swoop across it. It is like being on a helicopter joyride.
In her book Computers as Theatre (1991), VR theorist Brenda Laurel argues the importance of the first-person perspective in a three-dimensional VR space. In Carriberrie, I feel myself take on the role of the traveller. I am there to learn and reflect.
The technical expertise to pull all this off is almost invisible. However, working in VR is incredibly complex for creators. Allen used a consumer drone and fitted it with two cameras to create the 360-degree aerial footage. He then patched the shots together at the edit stage. Other scenes were shot with a Jaunt One VR camera – it gives the experience a live, photo-realistic quality.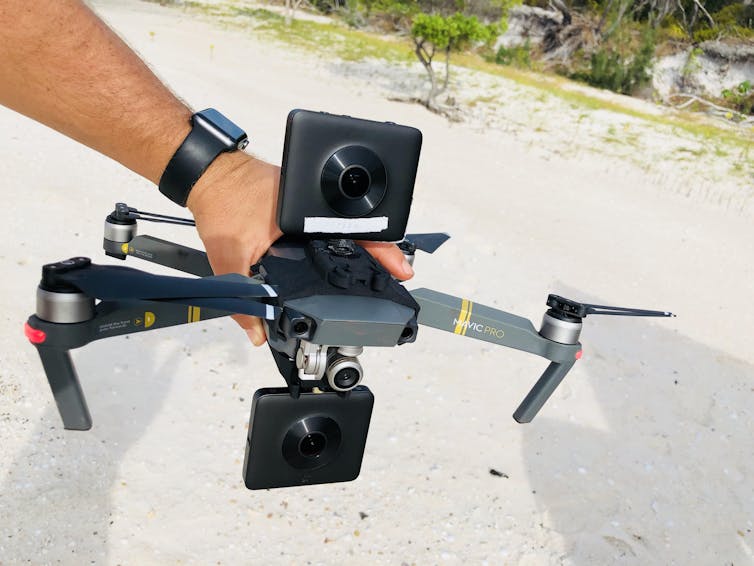 Carriberrie uses the latest immersive technology to invite the audience into a much-needed dialogue about the threatened culture of our nation's first peoples. If their practices are not preserved and passed on to the next generation, if they are not encouraged by all Australians, they could all too quickly be lost. With VR headset adoption yet to become mainstream, museums and cultural spaces will be vital for these important projects to reach wide audiences.
Immersive films like Carriberrie should also be used in educational settings such as classrooms. We learn through experience. Virtual reality can be a proxy for the real thing. It can give students exposure to Australian Indigenous culture when excursions are unfeasible.
Geographical and language divides are no longer an excuse for ignorance. As artists embrace immersive technologies, let's hope their work counters the fissures born from a lack of true understanding and empathy.
Carriberrie can be seen at the Australian Museum from March 2-27 as part of WEAVE, a festival of First Nations and Pacific cultures.
Kate Gwynne is a PhD Candidate in Interactive Storytelling at UNSW.
This article was originally published on The Conversation. Read the original article.