The vast majority of Australian children are up-to-date with their vaccines. But vaccination rates have dipped slightly over the past few years.
Fewer health checks, reduced access to routine health care during lockdowns, and fear of COVID have been the main reasons.
If that's been the situation for your family, you can still catch up. Here's how to check which vaccines are due for your children and how to organise appointments.
Which shots are due?
If you are unsure which vaccines are given at different ages:
look up the vaccine schedule, officially called the National Immunisation Program Schedule. This lists the recommended free vaccines at various ages

download a vaccine scheduling app. Some states have an app you can download to create a personal vaccine schedule for your children, with reminders of what's due and when

chat to your GP. The next time you see a GP (for any reason), you can ask about vaccines and which ones are due.
I think we're behind. How do I check?
If you think your child has missed a shot but want to check, obtain your child's immunisation history statement using:
your Medicare online account through myGov or

the Medicare app.
You can also call the Australian Immunisation Register (1800 653 809) and ask for your child's immunisation history statement to be sent to you. This can take up to 14 days to arrive in the post.
If your child is over the age of 14, they can get their immunisation history statements themselves.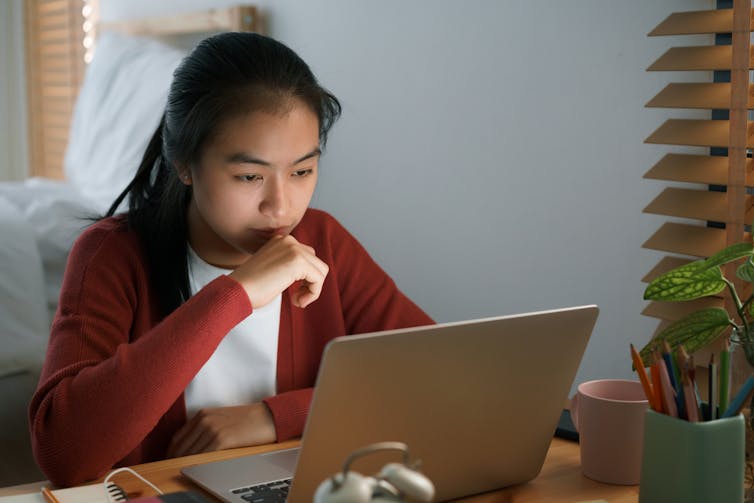 Some teenagers can access their own immunisation records. Photo: Shutterstock.
If you're not eligible for Medicare, you can still get your immunisation history statement online through myGov.
In very rare cases, a vaccine may have been given but not recorded on the Australian Immunisation Register.
If you think this may be the case, check your child's baby health book, as information may have been recorded there. You may also need to check with the GP who gave the vaccine.
OK, we are behind. What now?
If there are no written records available of past vaccination, your child will be offered catch-up vaccines appropriate for their age.
But children who missed their recommended vaccines in childhood can also still receive them free before they turn 20.
Depending on the child's age, you can go to your local doctor, pharmacy, hospital immunisation clinic, local council or see a community health nurse.
Find your local health service using this search engine.
I may need an interpreter
Catch-up vaccinations are free. But we understand that families who speak a language other than English can face challenges navigating the health system, including accessing vaccines.
If this applies to your family, or someone you know, you or they can use an interpreter to talk to the GP about catch-up vaccinations.
This is a free phone service, covering more than 150 different languages. Call 131 450.
I have a large family. Any tips?
If you have multiple children, the GP or practice nurse will tell you how many appointments you will need to ensure your children are up-to-date with their vaccines.
Here are some tips to help things run smoothly:
bring an extra adult (if possible) to sit outside the clinic with children not being immunised. This reduces the risk of distractions in the clinic

try to ring ahead to let the GP surgery know they need catch-up vaccines. This allows the team time to work out a catch-up schedule

if you have records of vaccines given overseas speak to the surgery about dropping records in before the appointment. Again, this will allow the nurse to work out the catch-up schedule before you arrive

in some situations, you may be able to have slightly longer gaps between vaccines to reduce the number of visits needed. This will depend on the situation. The GP or practice nurse will be able to determine if this is possible based on what vaccines are needed.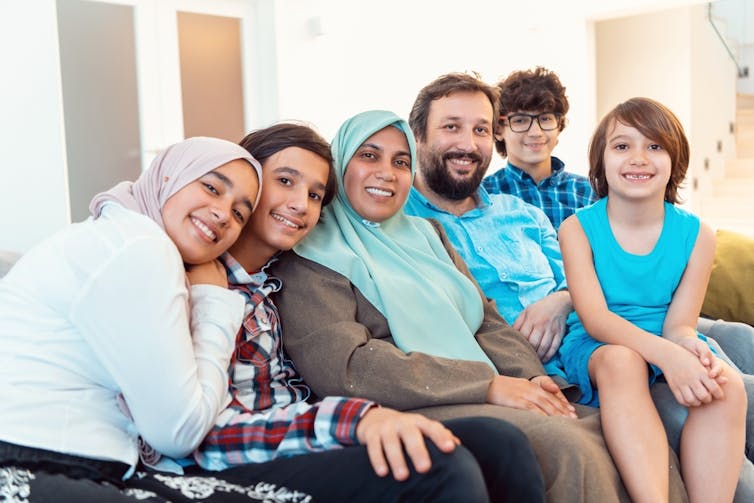 Large family? Ring ahead. Photo: Shutterstock.
How about flu or COVID shots?
Beyond the vaccines on the National Immunisation Program, some children are also recommended a flu and COVID shot, depending on their age.
Children aged 6 months and older are also recommended to receive a yearly influenza vaccine (free for kids 6 months to under 5 years). If they are older than 10 years, they can get this flu vaccine at either a GP clinic or pharmacy.
COVID vaccination is currently recommended for children aged 6 months up to 5 years only if children have special medical or other needs, including a very weak immune system, disability, or complex or multiple health conditions.
Most children aged 5-17 years are recommended to have two doses of a COVID vaccine.
If your child has not received a COVID vaccine and you want some help deciding, there's online help depending on the age of your child.
---
For more information about vaccines and catch-up vaccination, call the National Immunisation Information Line on 1800 671 811. For specific medical advice, see your health-care provider.

Holly Seale, Associate professor, UNSW Sydney; Abela Mahimbo, Lecturer in Public Health, University of Technology Sydney, and Jane E Frawley, NHMRC Research Fellow, University of Technology Sydney
This article is republished from The Conversation under a Creative Commons license. Read the original article.