OPINION: Data released today by the Kirby Institute shows a widening gap in HIV infection rates between Indigenous and non-Indigenous people. It also found gonorrhoea is rising in young people. And the number of people living with hepatitis C with severe liver disease has decreased.
Increasing disparities between Indigenous and non-Indigenous
Over the last five years, we've seen the rate of new HIV diagnoses decrease by 22% and hepatitis C diagnoses remain stable in the non-Indigenous population. But among Aboriginal and Torres Strait Islander people, new diagnoses rates have increased by 33% for HIV and 25% for hepatitis C.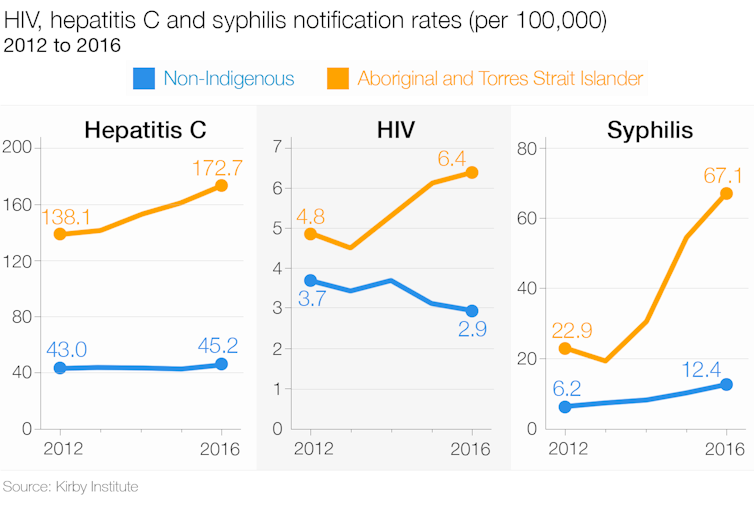 One factor that is likely to be driving a divergence between the two populations is that Aboriginal and Torres Strait Islander people are more likely to be diagnosed with HIV at a later stage. Once diagnosed, they're also more likely to have poorer health care outcomes.
Inequitable access to the HIV preventative medication pre-exposure prophylaxis (PreP) is a contributing factor.
HIV risk factors vary in the Indigenous population, with a higher proportion of HIV diagnoses through injecting drug use or heterosexual sex, and in women. There's a lack of discrete strategies to address these differences with non-Indigenous people.
These rates suggest more needs to be done to reduce this growing gap in health status. Improving access to prevention and treatment services is key. The different HIV risk factors indicates the prevention response needs to be multi-faceted.
Risk behaviours have complex social causes, including poverty and discrimination. Access to and use of health services are strongly influenced by these factors.
In regional and remote areas of Northern Australia, chlamydia and gonorrhoea rates in 2016 were up to 30 times higher than in the non-Indigenous population. There has been a resurgence of syphilis in young Aboriginal people in remote areas, bringing with it congenital syphilis, which affects babies. There are initiatives underway to address the syphilis resurgence, including enhanced testing and treatment, and culturally appropriate health promotion campaigns.
Gonorrhoea on the rise 
Gonorrhoea diagnosis rates in women increased by 43% over the past five years, particularly in major cities where the rate almost doubled in the last year alone. The patterns in younger women are the most striking, with gonorrhoea diagnosis rates increasing by 39% in women aged 20-24 years, 93% in those aged 25-29 years and 94% in those aged 30-39 years between 2012 and 2016. Similar trends were seen in gay and bisexual, and in heterosexual men.
There has been a long-term increase in gonorrhoea among gay and bisexual men. This may be linked to an increase in condomless anal sex, as a result of adoption of new HIV prevention strategies that protect against HIV but not STIs. Over recent decades, gonorrhoea has been rare in urban heterosexual people. Possible explanations for the recent increase include changes in sexual behaviours or travel. There's no evidence a change in testing might be responsible for the increase.
Untreated gonorrhoea can lead to pelvic inflammatory disease (an infection of the reproductive organs) and infertility in women. Gonorrhoea has no symptoms in 80% of women, so regular testing is important to detect the infection early and prevent serious consequences. But in 2016, only 20% of young women and 9% of young men attending general practice had a gonorrhoea test.
Hepatitis C-related liver disease decreasing
Untreated hepatitis C can cause severe liver disease, transplants and death. In 2016, hepatitis C was still responsible for one-third of all liver transplants in Australia.
In 2016, for the first time in ten years, we saw a decrease in the estimated number of people in Australia living with hepatitis C who had severe liver disease because of their infection, from 46,247 in 2015 to 36,772 in 2016.
This decrease in the estimate is due to new, highly effective treatments for hepatitis C becoming available for anyone living with the infection through the Pharmaceutical Benefits Scheme in March 2016. As a result, the number of people living with hepatitis C receiving treatment increased four-fold between 2015 and 2016.
Among people living with hepatitis C-related cirrhosis, the most advanced stage of hepatitis C-related liver disease, it's estimated almost half received treatment in 2016. Between March and December 2016, an estimated 30,434 people were cured of hepatitis C using these therapies.
Despite this good news, more than 120,000 people living with hepatitis C are yet to be assessed for treatment, which includes having the additional tests required to confirm their diagnosis.

The World Health Organisation has set a target for virtual elimination of hepatitis C by 2030. To meet this target, Australia must sustain this initial surge in treatment through screening of high-risk populations, including people with current or past injecting drug use, and immigrants from high-prevalence countries, where unsafe medical procedures are largely responsible for infection.
Praveena Gunaratnam is a Research Fellow at UNSW; Greg Dore is Professor of Medicine, Clinical Researcher and Epidemiologist at UNSW; James Ward is an Associate Professor, Infectious Diseases Research Aboriginal and Torres Strait Islander Health, South Australian Health & Medical Research Institute; Muhammed Jamil is a Research Officer at UNSW, and Rebecca Guy is Associate Professor of Epidemiology & Program Head of Surveillance Evaluation and Research at UNSW.
This article was originally published on The Conversation. Read the original article.