The New South Wales government's decision to back away from establishing no-fishing zones in waters around Sydney leaves significant question marks over the plan, which is open for public consultation until September 27.
Fisheries Minister Niall Blair explained the apparent backflip by saying he was "confident that fishing is not the key threat to the sustainability of our marine environment", after receiving what he described as "robust" feedback from local communities and anglers.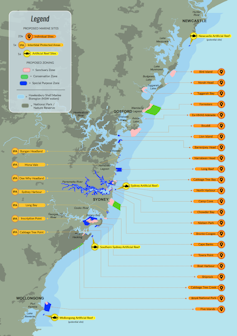 The original plans for Sydney's marine park. Click image to enlarge. NSW government
The originally proposed Sydney Marine Park comprised 17 "sanctuary zones" (totalling 2.4% of the area, including estuaries), 3 "conservation zones" totalling 2.6%, and 21 "special purpose zones", which would allow (and in some cases protect) fishing.
Sanctuary zones allow no fishing; conservation zones allow taking of lobster and abalone (see below); and special purpose zones have a range of restrictions or allowances, not necessarily of any conservation benefit. For instance, four offshore artificial reefs are classed as special purpose zones.
The plans cover the waters around Sydney, stretching from Newcastle in the north to Wollongong in the south. Formally known as the Hawkesbury Shelf marine bioregion, it is the only bioregion wholly in NSW that does not have a marine park. This is despite Sydney's magnificent array of underwater and coastal habitats, which are home to more fish species than the entire British Isles.
New zones and ranked threats
The original marine park proposal was far from ideal. A good marine park should have a string of closely connected sanctuary zones, but there was a large gap from southern Sydney to Wollongong where no sanctuary zones were proposed.
Instead, there was a new "conservation zone" to allow fishing for lobster and abalone. Yet lobster in particular are important to this ecosystem, because they protect kelp by preying on sea urchins.

Threats to the marine region around Sydney, as ranked in a NSW government report. Click image to enlarge. NSW government
The NSW government based its earlier proposal on a principle called TARA, short for "threat and risk assessment", in which all perceived factors are ranked according to their environmental, social and economic outcomes.
While other major threats such as climate change and pollution are ranked highly, fishing doesn't appear until number 18 on the government's list (see page 8 here. One reason for this is that fishing is split into eight categories (such as "recreational fishing by boat – line and trap"), masking its overall impact. Even 4WDs on beaches are ranked as a greater threat to the environment than many types of fishing.
Premier Gladys Berejiklian's press release about the marine park public consultation didn't mention the environmental threat posed by fishing at all. Yet there is clear evidence that fishing directly harms fish stocks.
One recent study shows that stocks of inshore fish species have declined in Australia by 30% in a decade, except in sanctuary zones. Worldwide, sanctuary zones (also called no-take zones) have been shown to help fish grow larger and more abundant. And recent studies in NSW coastal waters have reiterated the benefits of no-take zones for species such as morwong, bream, and snapper.
Partial protection doesn't work
The latest proposals, which would allow recreational but not commercial fishing, would be much less effective than full protection. One recent study suggested that partial protection is no better than no protection at all.
According to a NSW government estimate, recreational fishing removes more than 3 million fish, crustaceans and molluscs from NSW coastal waters every year. But marine parks are primarily about conservation, and this requires us to face some stark realities. With more than 8 million people likely to call Sydney home in the next 40 years, pressures on our coasts will only increase.
Sanctuary zones are one of the best available conservation tools to guard against these impacts. These zones have also been shown to make wildlife more resilient to climate change.
Even before the government's decision to rescind the proposed sanctuary zones, the original plan for no-take zones to cover just 2.4% of the region was a severe compromise. By comparison, the Great Barrier Reef Marine Park has 30% sanctuary zone coverage, and the rest of NSW has 7-8%. International best practice recommends at least 20%, and even the Commonwealth Marine Reserves Management Plan offers 6% no-take coverage.
But now, with no sanctuary zones, Sydney's proposed "marine park" is not worthy of the name.
Wrong priorities
A peculiar contradiction is that despite one-quarter of the listed threats being fishing-related, the NSW government's marine estate management strategy includes an initiative to encourage fishing. Pollution is also a high-priority threat, and fishing is the largest source of subtidal debris.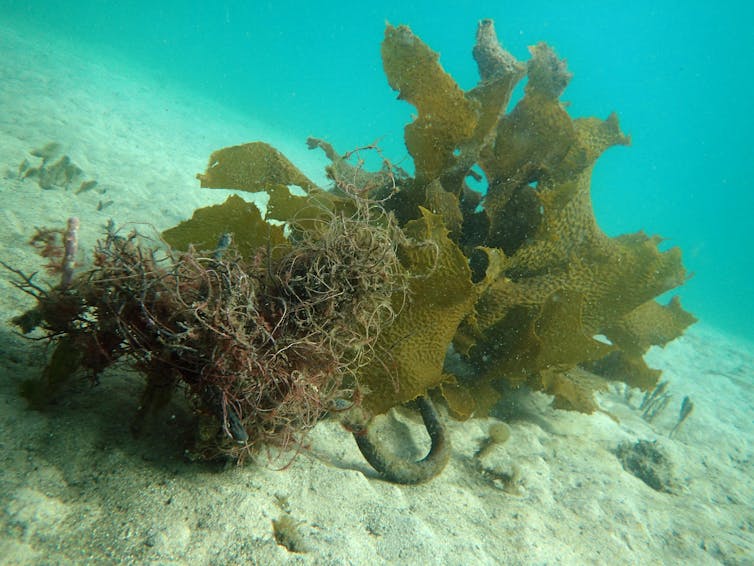 Kelp and a tangle of discarded fishing line. Image from John Turnbull
If local-level threats such as fishing and litter are not dealt with, resilience to climate change suffers as a result. We must tackle all threats – overfishing, pollution, climate change – and not shy away from one because it's politically unpalatable.
It is frustrating that the NSW government has opted to abolish these marine sanctuaries before the public consultation was complete. The wider public understands the value of sanctuary zones, as indicated in recent opinion polls showing clear support for the original plans among Sydneysiders – even many of those who fish.
Some fishers are now calling for sanctuary zones to be scrapped or wound back in other iconic NSW marine parks, such as Lord Howe Island and Solitary Islands. This move would be a defiance of the science. The evidence shows that sanctuary zones are essential for restoring and preserving our marine estate for future generations.
David Booth, Professor of Marine Ecology, University of Technology Sydney and John Turnbull, , UNSW
This article is republished from The Conversation under a Creative Commons license. Read the original article.