Ella never knew when her credit card was going to be declined.
It happened when she was shopping for groceries with her kids, or refuelling the car. That's when she would discover her partner had cancelled the card or lowered the limit so she couldn't buy essentials. Again.
Ella* (not her real name) is one of about 1.6 million Australian women and 745,000 men who have experienced economic or financial abuse.
Perpetrators of such abuse use money to control their victims, with devastating impact including stopping or limiting access to money, creating insurmountable debt and damaging a credit history.
The direct costs to victim-survivors of financial abuse have been estimated at A$5.7 billion a year, with impact on the economy estimated at A$5.2 billion a year.
The highly disruptive tactics used by abusers
Perpetrators use a range of tactics, some of which are inadvertently enabled by bank products and services. For example:
• credit cards are opened in the name of victim-survivors without their knowledge, potentially damaging credit scores
• all cash is withdrawn from joint accounts or redraw facilities without the consent of the other account holder
• legally binding property settlement orders to refinance home loans are ignored, forcing one party to seek help with repayments while trying to disentangle from their ex-partner
• payment descriptions are used to send threatening, abusive messages.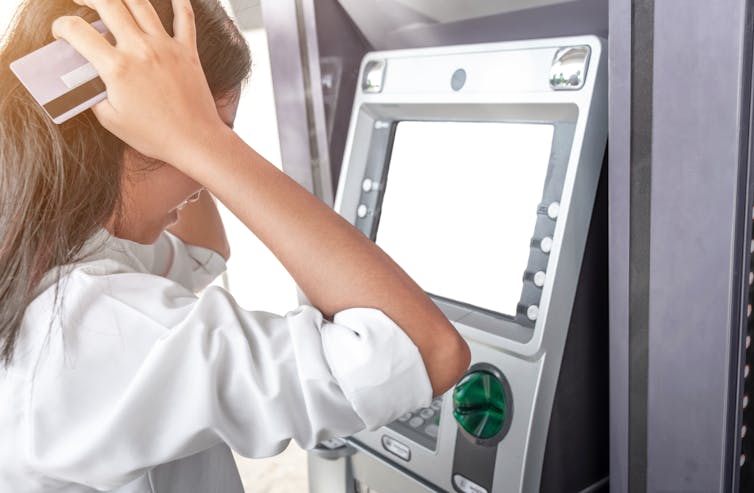 Money may be emptied from joint accounts or access may be blocked. Photo: Shutterstock
Banks typically respond to these issues case-by-case, tailoring solutions for each customer. However, it may be possible to eliminate or reduce the need for these interventions with improved product design to prevent and disrupt abusers.
Taking action against perpetrators
My first Designed to Disrupt discussion paper for the Centre for Women's Economic Safety proposes a new "financial safety by design" framework that tailors the eSafety Commissioner's work with the technology sector and provides greater protection for victim-survivors.
It outlines steps banks can take to prevent their products being used as a weapon in domestic and family violence.
Recommended measures include setting up every joint account with separate passwords, logins, and portals for each person so it's simpler and safer to separate if the relationship ends or is abusive.
Two of Australia's big four banks, the National Australia Bank and the Commonwealth Bank have already agreed to adopt the primary recommendation – to include financial abuse in product terms and conditions as a reason for suspension or closure of accounts.
It's likely other banks will follow suit, with Westpac signalling last November it would consider ensuring its terms and conditions reflect its no tolerance approach to financial abuse.
Evidence shows that challenging the acceptance of violence against women is essential to respond to specific gendered drivers of violence.
In banking, this means spelling out the bank's rules and its expectations of customer behaviour in its terms and conditions. These rules are the foundation of the contractual relationship with the customer and are relied on where there is a dispute.
Banks taking the lead
National Australia Bank and Commonwealth Bank will change their terms and conditions to make it clear that financial abuse is unacceptable – just like financial crime or threatening call centre staff.
They will be the first Australian banks to signal to millions of bank customers they have a choice: abuse other customers and potentially lose access to their bank account, or behave with respect.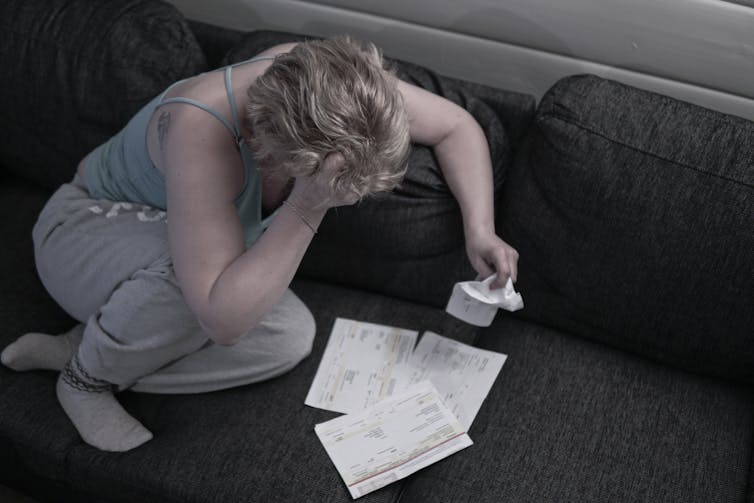 Persistent abusers may be denied banking services.  Photo:  Shutterstock
This will make it harder for people to misuse financial products as a means of coercive control.
Implementation will be complex and the banks will need to proceed with caution. Financial abuse is hard to detect and there may be risks to the abused partner if perpetrators blame them for the bank's action.
Consequences for abusers who fail to stop
An abuser may continue their behaviour at another bank. In this instance, there is the option of "de-banking" the customer which is not only a major inconvenience but also denies them access to an essential service.
That's why it's important the whole industry moves on this. It is instructive to examine the collective approach the banks have already taken to disrupt technology-facilitated abuse through payment descriptions.
Notably, my research found two banks reported more than 90% of customers discontinued abuse following a warning letter.
Implementation of the new terms and conditions should be guided by the experience of victim-survivors. It could also be informed by the Council of Financial Regulators' de-banking policy recommendations on transparency and fairness measures.
These measures include providing documented reasons to the customer with 30 days' notice before closing services and giving them access to internal dispute resolution.
Getting the public on board
There also needs to be a public conversation about what this means. Airlines make it clear jokes about terrorism are not okay, and patrons are ejected from sporting events for violence.
If every bank in Australia makes it clear there is a minimum expectation of respectful behaviour to be a customer, it would be a game changer.
The widespread adoption of financial abuse terms and conditions and broad public communication will send a strong message to everyone with a bank account that financial abuse is unacceptable and has consequences.

Catherine Fitzpatrick, Adjunct Associate Professor, School of Social Sciences, UNSW Sydney
This article is republished from The Conversation under a Creative Commons license. Read the original article.