What needs to change to greatly reduce youth homelessness in Australia? Now is the time to find answers to this question, and not just because it's National Homelessness Week.
The federal government is developing a National Housing and Homelessness Plan and says public consultations will begin soon. In recent years, there have been two parliamentary inquiries into homelessness in Victoria and across Australia. Then came a Productivity Commission review of the National Housing and Homelessness Agreement, which expired on June 30 this year.
More than a decade ago, the Rudd government made homelessness a national priority. A 2008 white paper, The Road Home, advanced three key strategies:
"turning off the tap" – early intervention and prevention
"improving and expanding services" – the existing service system
"breaking the cycle" – supported housing to prevent homelessness reoccurring.
Yet today more people need help because of homelessness than 15 years ago. The ambitious agenda of 2008 has not been fulfilled.
The forthcoming plan might just be a second chance for Australia to get it right.
Homelessness is more than 'sleeping rough'
Homelessness conjures images of someone sleeping in a doorway, alley or city park. "Rough sleeping" is, after all, the visible homelessness that people see. But there are other forms of homelessness that are more hidden.
Some vocal advocates seek to model the Australian homelessness response on that of the United States. In the US, nearly 600,000 people are sleeping rough or in shelters. The rate of homelessness is at least ten times the rate in Australia.
A problem in the US is that homelessness is very narrowly defined. Fortunately, in Australia, homelessness has been understood and defined more broadly as not having a secure and safe home. So the good news is the new homelessness plan is unlikely to make the mistake of adopting the narrow US focus on rough sleeping.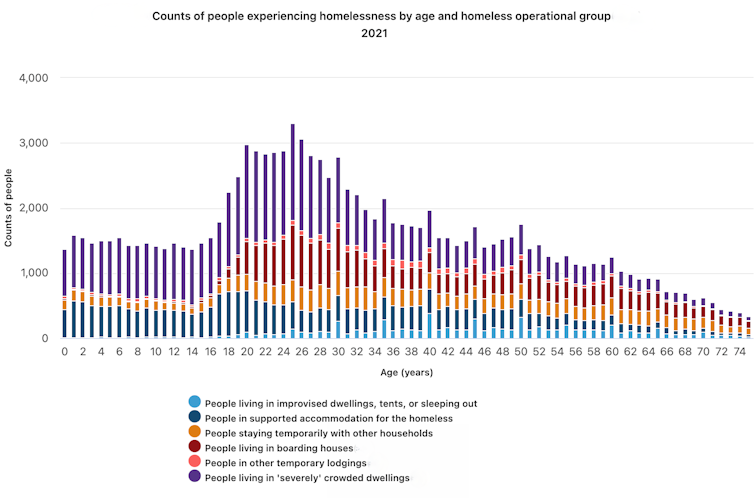 Source: ABS Census of Population and Housing 2021, CC BY
Homelessness funding has largely gone into crisis management – that is, after people become homeless. An expanded role for "prevention" work coupled with supported housing options in each community would be a valuable strategic reform.
The Productivity Commission review recommended "prevention and early intervention programs should be a higher priority under the next agreement", backed by "a separate pool of funding". The commission even suggested:
The nearly $3 billion [annually] given to first home buyers works against improving affordability. This money would be better spent preventing homelessness.
Too many young Australians who become homeless and disengage from education then experience long-term disadvantage. The cost to Australia of their lost opportunities amounts to hundreds of millions of dollars a year.
We have examples of intervention that works
There are promising early intervention models for at-risk young people that are ready to be scaled up. Examples include the COSS Model, Kids Under Cover, Ruby's Reunification and Home Stretch programs. If implemented adequately, programs like these would greatly reduce the flow of young people into homelessness.
Housing affordability in Australia has worsened over a long time. For people whose homelessness cannot be averted, the immediate need is access to a crisis service, rapid rehousing and then supported housing options.
The Albanese government's A$10 billion Housing Australia Future Fund could begin to turn the housing crisis around, but it would be only a beginning. All sides of politics need to get behind greater investment in high-quality social housing, shared equity home purchase programs (the government or another investor covers some of the purchase price in return for a share of equity in the home) and increased Commonwealth Rental Assistance. Government subsidies for the private housing sector, such as negative gearing, also need to be reviewed.
Homeless young people have little chance of getting into mainstream social housing when they most need supported housing to get their lives back on track. The social housing business model is not set up to provide supported housing for adolescents and young adults.
One notable innovation is the world's first model of social housing for youth developed by My Foundations Youth Housing. It provides up to five years' supported residency with rents scaling up annually. Most residents move on to other accommodation when ready to do so.
Get the plan right and it can be a game-changer
Expanding the social housing options for young people would have a significant impact. Should the Senate finally pass the Housing Australia Future Fund legislation, young people (15-24 years) could be guaranteed a specific share of that funding, as has been done for women escaping domestic violence and older women at risk of homelessness. This funding would go into expanding social housing for young people.
A key structural reform would be to reorganise support services for at-risk and homeless young Australians on a community-by-community basis. What's needed is a rigorous approach to needs-based funding for both early intervention and post-homelessness support and supported housing.
Will the National Housing and Homelessness Plan be a game-changer for vulnerable young Australians? Well, that remains to be seen. We hope Australia can avoid a rerun of what happened after the 2008 white paper.
David MacKenzie, Associate Professor, University of South Australia and Tammy Hand, Adjunct Senior Research Fellow, Gonski Institute for Education, UNSW Sydney
This article is republished from The Conversation under a Creative Commons license. Read the original article.