If you have read anything about the National Disability Insurance Scheme (NDIS) in the last few years, you will have encountered many metaphors. The NDIS is the "lifeboat in the ocean", "an oasis in the desert", "a plane being built mid-flight" or a "limitless magic pudding".
I research disability policies and services and confess I've used more than a few of these in my work. Who doesn't love a metaphor? They are a way of explaining complex concepts we might not be familiar with and helping others to make sense of the world.
---
Review: Lifeboat: Disability, Humanity and the NDIS; Quarterly Essay 91 – Micheline Lee (Black Inc)
---
But I worry whether these metaphors give those without experience of disability or the NDIS a sense of what the real issues are. If I were stranded in an ocean a lifeboat would be welcome. Even if it lacked a few essential items, it would meet my immediate need. But why was I in the ocean in the first place? Are others in a similar situation? How we will decide who gets to come aboard the lifeboat? And why does the ocean exist in the first place? All this is important because the ocean in this metaphor is a creation of social systems and attitudes, not a geographical reality.
The latest Quarterly Essay Lifeboat: Disability, Humanity and the NDIS written by author Micheline Lee weaves together personal testimony and detailed analysis of history and policy. It illuminates the reality behind these metaphors for the lives of disabled Australians and considers what needs to happen to realise the original intent of the NDIS.
The deficit model of disability
Lee grew up in a world prior to the NDIS, when disability support and services were highly rationed, subject to significant waiting lists, inadequate, disempowering and crisis-driven. She writes,
It was a lottery whether you would receive a service.
Before the NDIS (pre-2013), disability supports such as a hoist or a wheelchair could be unaffordable even for individuals like Lee, who at that time was a government legal adviser living with her partner and son. The policies and services a society develops reflect how we view those they serve. As writer and disability activist El Gibbs argues,
this lack of support wasn't accidental; it's the end result of centuries of seeing disabled people as unequal, as wrong, as not really human.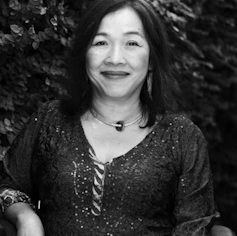 Micheline Lee. Photograph: Susan Gordon-Brown/Black Inc
Lee and three of her siblings were born with spinal muscular atrophy. Family lore was that this was the result of an ancestral curse. On migrating from Malaysia to Australia her parents became born-again Christians and the congregants of the church would implore Jesus to remove the "Demon of sickness" from the siblings. Disability was firmly seen as being a problem or deficit within the body of an individual who needed to be cured.
Lee's discovery of the social model of disability challenged how she had been raised to understand it. The social model sees disability as produced by
social and environmental barriers such as discriminatory attitudes and policies, inaccessible buildings and transport, and inflexible work arrangements.
Disability is not a matter of deficit in the individual. Society has a responsibility to remove these boundaries. Disability activists, such as Rhonda Galbally, have documented the rise of the disability rights movement in Australia, which fought for the establishment of the NDIS.
Citizens or consumers?
The promise of the NDIS was significant. As Lee describes,
Disabled people wanted more than just survival, getting out of bed, showering and eating, and maintaining basic health. They wanted support to participate and to create the lives they chose – to come out of isolation, to live in the community, work, make friends and pursue interests like other people.
Yet, inherent within the design of the NDIS are two competing logics: citizenship and consumer rights. The former sees the role of the scheme, in collaboration with others, as enabling and empowering people with disability to engage with the community and broader society.
The latter provides funds to people with disabilities to act as empowered consumers within a market, exercising choice and control to ensure private providers deliver the services individuals demand. So far in the implementation, this logic has won out.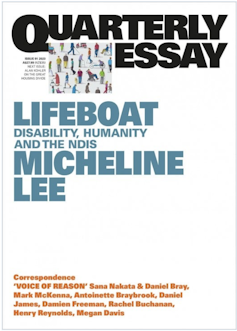 Black Inc
But the market has not worked as expected. As the NDIS Review notes, too often NDIS plans (which provide the basis for funding and services within the scheme) are not well-designed and are inflexible to the needs of individuals. Across the country, either services are not available or providers are not willing to work in a way that meets the needs of the individual.
All too often consumers find they do not have power in working with providers. NDIS participants are often expected to act as the "ideal consumer", writes Lee, someone who is compliant with the demands of the provider, doesn't ask for things to be done in their own way and doesn't display behaviours that are considered too "difficult". The theory of the empowered consumer is far from realised.
But the major limitation of the first decade of NDIS implementation, I'd argue, is a lack of action to make society more accessible. This isn't just an issue of ramps or Auslan interpreters (although of course both are important facilitators for some people with disability).
Read more: A decade on, the NDIS has had triumphs, challenges and controversies. Where to from here?
It is also about the kinds of attitudes society holds towards people with disability. Lee describes a discussion with a friend about NDIS supports potentially helping a person with disability get a job. Her friend responds, "But what can they do if no one wants to give me a job?".
This is the crux of the challenge for the NDIS, we can build the best lifeboat in the world. But who wants to spend their life adrift on the ocean?
Not only has there been little action here, writes Lee, but the existence of the NDIS may have served to make day-to-day life outside the scheme more challenging. Her essay contains several testimonies from people with disability who are now expected by (non-disabled) strangers to always have a support worker accompany them when travelling, attending medical appointments, or even going to the supermarket.
People within the broader community, she writes, are less willing to offer support to get items off a shelf at a supermarket or lift a bag from a wheelchair to be screened by airport security because they now regard this as the job of the NDIS. Disability is seen by many as something specialist professionals and services should handle, not a facet of the human condition.
This is the opposite of what many disabled people want, as Lee explains:
I don't want to be confined to my own little lifeboat. I want my community to be open to all and inclusive. I want to get bogged at a beach in my wheelchair and know people will help. I want to push into a crowded, heaving mosh pit and join the other dancers.
Draining the ocean
Lee charts how, over the course of the implementation of the NDIS, the voice of people with disability has been eroded. It has been replaced by those of non-disabled people, often with corporate and profit-motivated interests.
Repeated narratives about the NDIS being a cost burden – pushed by the media and federal opposition – have led to short-term cost cutting that make it difficult for the scheme to work. The market-based system is not operating as intended and changing attitudes outside the scheme have been neglected. The current NDIS Review is hearing about all these issues, but none are surprising to disabled people.
It is incumbent upon those of us within the non-disabled community to listen and act to create a more inclusive society.
Lee is still hopeful for the scheme, which has at its heart "the Australian ideal of the fair go".
The first step to bringing the NDIS back on course is to be aware of the deeply entrenched biases that lead people to act in ways that disregard the dignity and equal value of disabled people.
Lee argues we need to change the way people with disabilities are seen – as equal and and capable of making significant contributions. Only when this happens will society be willing to take steps to include people with disability.
The NDIS also needs a culture change. The voice of people with disability needs to returned centrally to the scheme, not just through the National Disability Insurance Agency but via providers of disability services, who tend to be non-disabled people lacking insight into the lived experience of disability. Being active in the scheme is more than just being able to make choice about services, it is about disabled people being listened to and their experience valued.
Making the NDIS work as intended, is a job for all of Australian society and not just disabled people.
Helen Dickinson, Professor, Public Service Research, UNSW Sydney
This article is republished from The Conversation under a Creative Commons license. Read the original article.