The National Disability Insurance Scheme (NDIS) began a full national rollout in July 2016 with a fundamental objective to give those with a disability choice and control over their daily lives. Participants can use funds to purchase services that reflect their lifestyle and aspirations. Two years on, how is the scheme faring?
---
In September 2016, The Australian newspaper warned of what it called an "explosion" of welfare payments for family carers. It quoted the then federal government's appointed reviewer of welfare services, Patrick McClure, as saying the government had a "moral obligation" to intervene and move carers into work.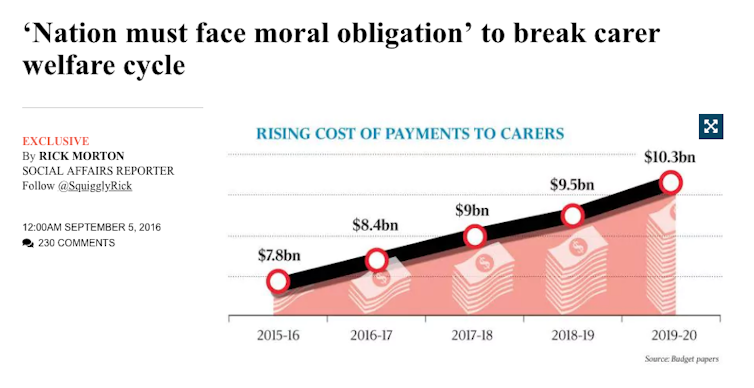 The Australian newspaper warned of an 'explosion' of carer welfare payments.
Screenshot/The Australian
Most carers want to participate in paid work, and many do, but all face barriers. To be able to work, carers must have appropriate replacement care – someone else to provide care for their family member while they are at work.
If they have been out of the workforce for a while because of their caring responsibilities, they may also need support building confidence, updating skills, and making connections with employers. They also need workplaces that provide them with enough flexibility to respond to the care needs of their family member.
The aim of the NDIS is to support people with a permanent and significant disability to live more independently, giving them more choice and flexibility over how their needs are met. There were hopes the extra supports of the scheme would give carers more time to engage in paid work.
But early evidence indicates that the support provided through the NDIS doesn't "free up" carers to work and the barriers to work remain high.
What the evidence tells us
The failure of the NDIS to have a major impact on carers' employment is not a surprise. The NDIS is not designed to support carers to work. A 2014 report on welfare reform, commissioned by the federal government, stated:
For many carers, the NDIS will enable them to work part-time or participate in activities that may enhance their employment prospects when no longer caring.
But the same paragraph also includes the wording that the NDIS is "not intended to replace informal care provided by families and carers" but to "strengthen and build the capacity of families and carers" to provide support.
The NDIS Rules, one of the documents that governs the scheme's operations, state that before formal services are provided, the suitability of family to provide care should be considered and supported. So in fact, the NDIS relies primarily on family members continuing to provide care.
While the government has made some effort to help carers enter paid employment, the programs they've put in place aren't comprehensive, nor do they address all the barriers carers face to working.
Fewer than half of carers of people with NDIS packages are in paid work. Most of those working are doing so part time. And most carers say their care responsibilities are the main barrier to working.
The NDIS is in its infancy so evidence on its outcomes so far is limited. But to date, there is no large-scale evidence that the NDIS has increased carers' opportunities for, or participation in, work.
An independent evaluation of the NDIS conducted by researchers from Flinders University found that, while there were "a few" qualitative stories of carers reporting the extra support of the NDIS helped them seek work or increase their working hours, there was "no significant impact of the NDIS on the employment of family members and carers."
And a survey by Carers Australia found most carers did not think the NDIS had made it easier for them to get or keep paid work.
Why it hasn't changed
These studies also showed that carers haven't seen much difference in the time they spent caring or the time they had for other activities. This may be because better services for people with disabilities doesn't necessarily translate to fewer caring tasks and more time for carers.
Carers may find the care tasks change but the time they spend on caring stays the same. They may not need to spend as much time to support their family member with daily living activities, but this may be offset by extra time spent on NDIS paperwork or researching services.
Research conducted by Carers Australia between 2014 and 2015 showed about three-quarters of carers felt the support provided though the NDIS had not reduced their hours of care, or had reduced it by only one to three hours per week.
The Flinders University evaluation found almost one-third of carers reported that the NDIS had increased the hours it took them to organise support, including doing the paperwork.
If some time is gained, this may not be suitable for working. It may be short, unpredictable or outside of working hours. Carers could also have other pressing needs that short amounts of extra time must be spent on.
For example, some carers have reported spending this time looking after themselves or their relationships with other family members, such as the siblings of a child with a disability.
Other services for carers
The government is in the process of designing a suite of services for carers. Some, such as counselling, will start later this year. These services will be important, as carers report among the lowest personal well-being of any group in Australia.
More extensive services, such as the as yet undefined financial support packages, will not begin until September 2019.
The government has also identified carers as a priority group for its Try Test and Learn Fund, set up to gather insights and evidence on what works to reduce welfare dependence. But action on reform of carer support is lagging well behind the NDIS.
At the same time, the introduction of the NDIS and changes to aged care have seen a reorganisation of services that means many carers now have access to fewer respite services. These are important for carers who need a break from caring to take time for themselves, or to participate in work.
Recently, the National Disability Insurance Agency (the body charged with implementing the NDIS) has indicated it recognises that meeting carers' own employment needs could potentially be justified as a source of support under the NDIS.
This would be an important start in developing services that actually support carers to work – not just hoping that carers gain time for paid work by altering disability services. But supporting carers to participate in paid work requires a broader understanding of the barriers to paid work.

Myra Hamilton, Senior Research Fellow in Social Policy, UNSW
This article is republished from The Conversation under a Creative Commons license. Read the original article.