Author Claire Dederer started off writing a book about the film director Roman Polanski. Forty-five years ago, Polanski fled the United States after pleading guilty to unlawful sexual intercourse with a minor.
Samantha Galley (now Geimer), who was 13 years old in 1977 when she said she was drugged and raped by the director, has told her side of the story numerous times, including in her 2013 memoir The Girl: A Life in the Shadow of Roman Polanski.
Geimer has forgiven Polanski. And just last month, in an interview with the director's wife Emmanuel Seigner, she reiterated that "what happened with Polanski was never a big problem for me". What weighs heavily on her is having to repeat that, over and again.
Dederer, who started her writing life as a film critic, has long been a Polanski fan. But for her, Polanski is a big problem. For more than any other contemporary figure, Dederer argues, it is Polanski who balances so equally the forces of "the absoluteness of the monstrosity and the absoluteness of the genius".
Dederer knew a book about Polanski was going to be complicated – that's why she embarked on it. But somewhere along the way, her project morphed into Monsters: A Fan's Dilemma. It's a thrilling work of feminist cultural criticism which promises to be career-defining for her and essential reading for those of us who have wrestled with the ethics and emotions of fandom.
Fallen idols: we all have at least one. While I was reading Monsters, comedian and satirist Barry Humphries died, prompting a nationwide debate about how he should best be remembered – for his iconic roles as Dame Edna and Sir Les Patterson and general comic genius, or for his transphobia, casual racism and rather flippant defences of unacceptable workplace behaviours?
There's plenty of evidence for all of it – watch a classic skit on YouTube and revel in his brilliance. Or read an account of how he described trans as a "fashion" and referred to gender reassignment surgery as "self-mutilation" to comprehend why the Melbourne International Comedy Festival decided to rename their prestigious Barry Award back in 2019.
Or why, in the immediate wake of his death, some trans people and their allies were compelled to call out the hypocrisy of a man who made his fortune performing in drag, yet purportedly sent a letter of support aimed at J.K. Rowling in support of her anti-trans agenda.
Then friends and contemporaries of Humphries paid tribute. Film director Bruce Beresford described the Comedy Festival's decision as a "disgrace" and Humphries as "one of the great comic geniuses".
Entertainer Miriam Margolyes, who had "sharply disagreed politically" with her friend of 65 years, also lambasted what she saw as her friend's late-in-life "cancellation". Margolyes declared, "He was acerbic, and he was often quite nasty, but he was a genius, and you have to accept it."
But do we?
This is where Dederer's Monsters starts off – she recognises Polanski's genius, yes, but the Geimer incident also changed her experience of consuming his art. And she has so much more to say, including about the terms "genius" and "cancel culture" and their limitations.
'I felt like Woody Allen'
My own fallen idols include the film director Woody Allen, who also happens to be one of Dederer's. "When I was young", she recalls, "I felt like Woody Allen. I intuited or believed he represented me on-screen. He was me. This was one of the peculiar aspects of his genius – this ability to stand in for the audience".
I too had once felt like Woody Allen – I was a teenage girl living in Sydney's western suburbs, and he was a then-middle-aged Jewish New Yorker who played clarinet in a jazz club every Monday night. But somehow, like Dederer, I identified with him. I also aspired to one day live in Manhattan in a book-lined apartment in the vicinity of Central Park. My future life would be filled with dinner parties, love affairs, shrink sessions and one-liners.
For Dederer, revelations of Allen's relationship with his then-wife Mia Farrow's adopted daughter Soon-Yi Previn were experienced as a "terrible betrayal of me personally". He had slipped from "one of us, the powerless" to "predator".
My own feelings were murkier, and it was convenient that the quality of his movies started to descend with his reputation. By the time his daughter Dylan Farrow's account of his alleged sexual abuse of her started to be widely publicised, I was no longer a fan. (Allen has long denied these allegations).
Between Dylan Farrow's Open Letter about Allen, published in the New York Times in 2014 (and still available online, with over 3500 comments below), and the HBO documentary series Allen v. Farrow, first aired in early 2021, #MeToo went viral.
Woody Allen's son and Dylan's brother, Ronan, was one of one of the journalists who helped expose the astounding extent of the abuses perpetrated by film producer Harvey Weinstein, now serving multiple prison sentences.
The stain
Against this backdrop, Dederer's book can be seen as both timely and overdue. Yet, as is obvious from her 2017 Paris Review essay What Do We Do with the Art of Monstrous Men?, she started exploring the terrain long before the celebrity phase of #MeToo kicked in.
With a book to play with, Dederer fleshes out her concerns, but Monsters is not – or not only – an extended version of her viral essay, or a catalogue of the monstrous acts of male artists. Through a blend of memoir, cultural critique and feminist analysis, Dederer offers a hybrid form that is far more ambitious, wide-ranging, slippery and complicated.
Sensing in the "psychic theatre of public condemnation" against disgraced celebrities a "kind of elaborate misdirection" or deflection, Dederer turns her gaze to the audience, including herself.
Monsters follows an intuitive logic, guided by Dederer's shifting sense of her own project. Early on, she re-watches Roman Polanski's films, an exercise that confirms his talent but fails to ease her conscience. "Polanski would be no problem at all for the viewer," she notes, "if the films were bad. But they're not".
From the outset, the question of "do we separate the art from the artist?" opens up other, more interesting questions – like, who is this "we" that proposes such a separation is possible, or desirable?
When Dederer returns to Allen's multi-Oscar-winning Annie Hall (1977), she declares it "the greatest comic film of the twentieth century" – a critical assessment she later mocks for its grandiosity, for she is not that kind of critic.
Not surprisingly, Allen's other peak-period "classic", Manhattan (1979) – in which Allen's character Isaac romances the teenaged Tracy, played by Mariel Hemingway – does not stack up so well.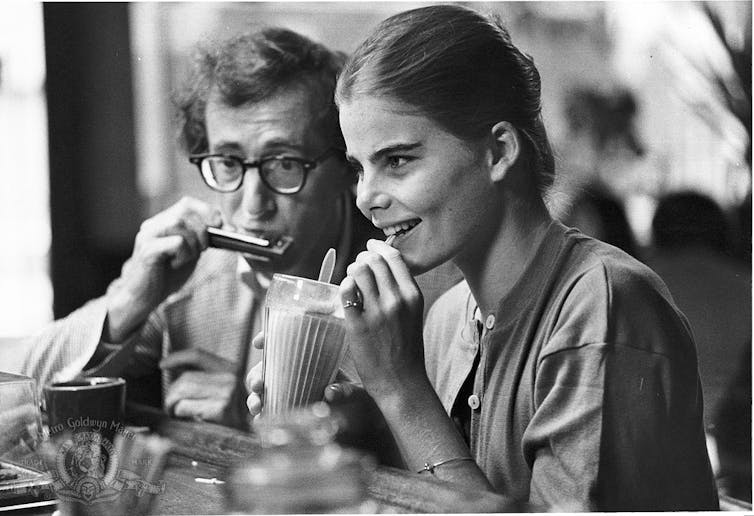 Manhattan, the film in which Woody Allen romances a teenager, 'does not stack up so well'. MGM/IMDB
Her women friends share her "complicated" feelings and emotions. For numerous older, white men of her acquaintance, however, Manhattan remains a work of unequivocal genius, untainted by its proximity to the director's "real-life creepiness".
From the opening chapters on Polanski and Allen, Dederer moves in all sorts of productive directions. Almost immediately she undermines her own title, making a compelling case for the metaphor of "the stain" as a more apt alternative to the rage-filled "monster".
Venerating white male rock stars
Next, the persistently masculinist category of "genius", embodied in Pablo Picasso and Ernest Hemingway, is examined as a product of the mass media, with a legacy most obvious in the veneration of white male rock stars.
More than once, Dederer brings up David Bowie, who in life (and now in death) has largely escaped reputational damage from allegedly having sex with underage girls. She does so out of curiosity not condemnation, and with a sense of her own complicity and investment as a fan.
Rock stars like Bowie, Led Zeppelin's Jimmy Page and Mick Jagger – all of whom apparently slept with teenaged Lori Mattix in the 1970s, to name one high-profile example – have, of course, often been excused for their bad behaviour on the basis that those were different times.
Integral to this argument is the smug assumption that we live in a more enlightened present. Dederer encourages readers to ponder their own participation in such a liberal fantasy.
She also spotlights enduring strains of anti-Semitism and racism, including historical amnesia about figures like Virginia Woolf, whose diaries were "pocked" with "flippant anti-Semitic remarks". When Dederer discusses Woolf with a Jewish friend, her friend replies "Well, if we give up the anti-Semites, we'll have to give up everyone".
Feminism propels Dederer's analysis, and morphs with it. The feminism she initially identifies with is virtuous, fault-finding and punitive – or white, liberal and carceral. Accordingly, she depicts her feminism and her desire to be "demonstrably good" as "coming into conflict" with wanting to be a "citizen of the world of art" and her "increasingly leftist politics". However, while such distinctions can be blind to the long history of (for example) left-wing feminism, they also dissolve as the book goes along.
Staking a claim for the 'I' in criticism
In the most pivotal chapter in the book, Dederer shares her own history as a cultural critic. It's a significant contribution to feminist criticism, not least of all because Dederer challenges the phallocentric model of the critic as a "kind of priest" who dispenses "critical pronouncements" as gospel.
Against this, in the spirit of critics like Vivian Gornick, she stakes a claim for the "I", of criticism as "relentlessly, proudly subjective". Feminist challenges of this kind are hardly new, but Dederer's insights are fresh, welcome and well-pitched.
Critics who cloak their opinions in the "garb of authority", she reminds us, are part of the problem. "Consuming a piece of art", Dederer concludes, involves "two biographies meeting: the biography of the artist, which might disrupt the viewing of the art, the biography of the audience member, which might shape the viewing of the art".
Elsewhere, Dederer models her critical practice to dazzling effect. Another stand-out chapter is her re-reading of Vladimir Nabokov's most infamous novel, Lolita (1955). If Picasso and Hemingway have been largely spared the conflation of the art with the artist, Nabokov has had no such luck. By writing from the perspective of Humbert Humbert, "the child rapist", the author was widely assumed to be a "monster" himself.
Dederer first read Lolita at age 13 and was "horrified" by it, including because Lolita herself did not seem like a "real character", only an "absence". The adult Dederer comes to see that may be precisely the point, that Lolita is "a portrait of a girl's annihilation". Yet Dederer does not disavow her younger self, who after all was onto something.
She also takes seriously the fandom of children who grew up obsessed with Harry Potter and the observations of her children and their friends. Her kids, she notices, are not tortured about Picasso the same way she is, or at all. At an exhibition of his work, curated to tell the story of "Picasso-as-asshole", they ask to leave.
'Maybe I'm not monstrous enough'
Motherhood is a central theme in Monsters. A gifted memoirist, Dederer builds on her previous books Poser: My Life in Twenty-three Yoga Poses (2010) and Love and Trouble: A Midlife Reckoning (2017) by sharing her experience as a "writer-mother", and the dilemmas that flow from it.
Contemplating her writing career to date, Dederer wonders "maybe I'm not monstrous enough". "Every writer-mother I know," she contends, has asked herself the question: "If I were more selfish, would my work be better?"
The female version of the monstrous male artist slash sexual predator, Dederer tells us, is the mother who abandons her children – and these "female monsters" are far fewer. Dederer weaves her own account of spending five conflicted weeks at an artist retreat in Marfa, Texas, into the vastly bigger stories of "abandoning mothers": writer Doris Lessing (who, when she was 23, left her two toddlers behind in what was then Rhodesia, now Zimbabwe, to move to London) and singer songwriter Joni Mitchell, who, as a destitute folk singer, surrendered her baby daughter for adoption. This way, Dederer encourages readers to contemplate stubborn cultural resistance and obstacles to women's artistic freedom.
Dederer admirably creates space for maternal ambivalence and stakes a claim for female ambition. These motherhood chapters are scattered with gems – like Dederer's appreciation of Jane Campion's cinematic evocation in the 1990 biopic Angel at My Table of writer Janet Frame (a non-mother) luxuriating in her writerly solitude after years in a mental hospital. But for me, they read as more predictable, less convincing and even oddly retrograde in parts, especially given the binary of mother/non-mother is largely left untouched.
I found myself wishing Dederer had cast her net wider (Sylvia Plath – again?) and challenged some of her own assumptions more. Surely the lives of say, Toni Morrison or Cate Blanchett – genius-mother-artists – would throw some new light on the dilemmas Dederer poses as endemic and perennial among "writer-mothers" like herself and her friends.
Is female ambition, for example, really still so widely and uniformly discouraged? And what of not-so-hetronormative models of motherhood and parenthood that offer alternatives, and which are under attack throughout the US by conservatives who deem them monstrous?
Your own art monsters
In any case, Monsters is, taken as a whole, a wonderfully generative read that is enhanced, not undermined, by Dederer's unapologetic subjectivity. But nor is it confined to Dederer's worldview or canon of fallen or "stained" idols. Her former or current cherished artists may not overlap with your own, but reading Monsters will surely bring them to mind.
Animated by the chapter on Woody Allen, I found myself scouring the shelves for my copy of Getting Even (1971), his classic comic short-story collection. It includes A Twenties Memory, in which Allen gleefully skewers some of the "genuises" discussed in Dederer's book: Picasso and Hemingway, among others. But I couldn't find it – I must have thrown it out, like the people described in Monsters who did the same with their Allen books and movies.
Throughout, Dederer engages with others who have wrestled with their emotional responses to the art and lives of beloved monstrous men, like Pearl Cleage on Miles Davis (who, as Dederer notes, "wrote frankly" in his 1989 autobiography, about beating his wives). The book is overflowing with conversations, and it inspires them too. Since reading it, I've talked to a number of friends about our mixed feelings about Woody Allen – including men. He was big among Gen X-ers, as was Johnny Depp (but I won't go there …).
Then there's Morrissey, the former lead singer of The Smiths (the greatest band of the 20th century!). He's not mentioned by Dederer, but he is – for me, and at least five other people I know – our most beloved "monster".
In Morrissey's case, it's not sexual abuse that has "stained" his reputation and the Smiths' legacy, but his far right, neo-fascist turn (though I've since discovered, after conducting a quick update search, that "Moz", as he was once affectionately known, has also victim-blamed those who were allegedly abused by Kevin Spacey and Harvey Weinstein).
Billy Bragg captured something of the despair and rage felt by Morrissey fans when he described the singer as "the Oswald Mosley of Pop", an artist who has betrayed his fans and empowered "the very people Smiths fans were brought into being to oppose".
The night I learned Queen Elizabeth II had died, I did something I had not done in a long time – I played the Derek-Jarman-directed video of The Smiths song The Queen Is Dead on You Tube. Then I sent a friend a text: "I'm allowed to play The Smiths tonight!" I've had them on regular rotation since.
The closest Dederer comes to a conclusion is to let us tortured fans "off the hook" because under capitalism, our consumer choices will "solve nothing". We "do not need to have a grand unified theory about Michael Jackson". I chuckled reading this passage, recalling my recent rediscovery of The Smiths back catalogue and the conflicted joy it has brought me.
For me, what was most rewarding about reading Monsters is that Dederer describes and gets "it" – the pleasure and pain of being a fan, feminist, critic and person with a unique history. And bringing all of this to the art we love (and to our criticisms of "untouchable" geniuses).
More broadly, Monsters is assured of ongoing relevance, at least for the near future. Dederer reminds us that dilemmas like how we should remember Barry Humphries will never be fully resolved – not by "thinking", nor through a moral calculus that weighs up the variables.
What we can pay attention to, however, is how authoritative claims of "genius" continue to hold sway in this purported age of "cancel culture".

Zora Simic, Senior Lecturer, School of Humanities, UNSW Sydney
This article is republished from The Conversation under a Creative Commons license. Read the original article.