"It's true to say that writers are selfish people," the novelist Elizabeth Jane Howard once said. "But it's not quite enough of an excuse."
Howard was married to British author Kingsley Amis. Novelist Martin Amis, Kingsley's son, credited his stepmother for encouraging his own writing career – not his father. But exhausted by the biggest child in the house – Kingsley – Howard often felt "too worn down by insecurity and fatigue to write". "He got up and wrote," Howard recalled. "Then he ate lunch, had a walk or sleep, and then he wrote again."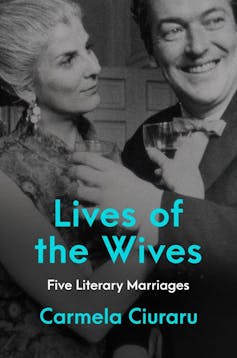 Writes Carmela Ciuraru, in her book Lives of the Wives: Five Literary Marriages: "It was an idyllic existence – for him." Howard, she notes, published three novels in the 18-year marriage; Amis published nearly 20.
Elsa Morante, the Italian author who inspired Elena Ferrante, once wrote, "literary couples are a plague". Married to novelist Alberto Moravia, her partnership (like that of Howard and Amis) is chronicled in Ciuraru's book – along with Roald Dahl and actor Patricia Neal, sculptor and translator Una Troubridge and author Radclyffe Hall, and author Elaine Dundy, married to British theatre critic Kenneth Tynan.
When both people in a relationship are writers, creative space is a faultline. So are matters such as who looks after the kids, inspiration turf wars, and yes, jealousy about success. As Ciaruru shows, it's often the wives who ultimately choose writing over wedded bliss.
Rooms – or tables – of their own
The tension starts with writing space. Virginia Woolf famously observed that money and time is required for a room of one's own. At Monk House, Woolf built a new writing lodge after she was irritated by her publisher husband Leonard and their dog. "The little noise upsets me; I can't think what I was going to say."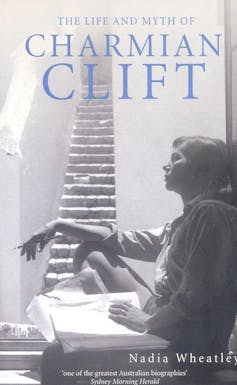 Most writing couples don't have Monk House and its grounds to divide, especially in the early years. Instead they scrap over who gets the dining room table, or share it – as Charmian Clift and George Johnston did while writing The Sponge Divers together on the Greek island of Kalymnos in the early 1950s. They later upgraded to a shared home studio on the island of Hydra.
Clift's biographer, Nadia Wheatley, writes:
The image of Charmian and George writing together is a potent one: two people bashing away at two typewriters on the one table. Stacks of typescript – his spilling over into hers; hers ending up in the middle of his – the air wreathed in cigarette smoke […]
Novelist Kristin Williamson and her playwright husband David also started out table sharing, less harmoniously. In her biography of David, Behind the Scenes, she remembers that compared to David's typing, she felt like a "slug on tranquilisers". They since always ensured each has a room of their own in later houses. But as Kristin quips, "David's is larger. His rooms always have been."
When Australian authors Ruth Park (originally a New Zealander) and D'Arcy Niland lived in a rented inner-city room in Sydney's Surry Hills, the suburb that inspired her novel, The Harp in the South (1948), they wrote story ideas on each other's palms in bed. Park recalls that when they finally moved into a flat that had more room, Niland:
made a beeline for the dining room table, excitedly opened the typewriter, and spread out his dictionaries, papers, and reference books. "Look!" he cried. "I've a proper place to work at last".
Park tried to share the table. But "gradually his papers encroached, files ostentatiously fell to the floor; the carriage of my typewriter constantly hit things […]" She gave up. Park reflects in her second memoir, Fishing in the Styx, that she should have fought harder for space to write, but "the ironing board was a minuscule price to pay for all the good things in his character and our relationship". They eventually moved into a large but decaying house.
Kenneth Tynan, by contrast, made his wife plain uncomfortable when she turned from acting to writing after they married in 1951. Observes Ciuraru,
Whereas he had his study as a refuge […] Elaine (Dundy) wrote each day "slowly but steadily" on the living room sofa with a typewriter propped up on her knees. Her back hurt.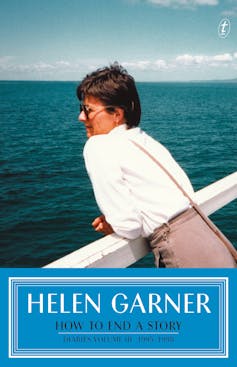 Space causes friction between established writers too. Murray Bail demanded total solitude while writing Eucalyptus (1998). Garner diarised her exile from their apartment that was his workspace in the third volume of her published diaries, How to End a Story.
Garner felt forced to rent a bland office. Even on weekends, or with the flu, she felt unwelcome at home:
With a friend who is married to a painter, I compared notes about our respective husbands and their demands […] Like me she is expected to run the house, do the shopping and cooking, and keep the home fires burning, all this without being permitted on the premises during work hours. I saw in her face my unhappiness. We did not know whether, or how, we could go tolerating their regimes.
She fears she will "wither away with loneliness". After the office lease ends, Garner moves out to a new apartment of her own, and separation.
Separate spaces, however, kept the Morante-Moravia union together. Morante, who died in 1985, published four Italian novels, including the acclaimed House of Liars and Arturo's Island, and volumes of essays, short stories and poetry.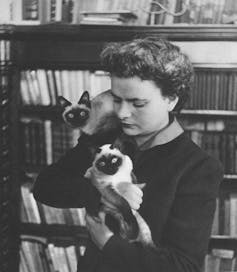 Elsa Morante.
Her husband said: "Writing was her life"; she called her characters "my people". Morante preferred cats, who did not criticise her work or interrupt her.
Moravia was an Italian literary lion after his 1929 debut, The Time of Indifference. She and Morante hid in a one-room hut in the mountains for nine months during World War II (which later inspired Moravia's 1957 novel, Two Women.)
Ciaruru quotes Moravia as recalling this time together as "their greatest intimacy". After the war, Moravia bought Morante a small apartment to use as a writing studio, largely funded by his bestselling novel, The Woman of Rome (1947).
"She says I am too noisy, too nervous, that she needs privacy," he said. "I can write in a hotel lobby or with someone playing (the bass) in the chair near me."
Morante admitted she was a "a little ashamed" about insisting on solitude. But, "if I had to write near Alberto I probably would not write at all. And I would be unhappy." Moravia understood, and was happy and prolific amid his noise in their villa, publishing classics including The Conformist (1951), adapted into a film by Bernardo Bertolucci in 1970.
Domestic tensions
If kids come along, things get more fraught. Pregnant again in 1948, with her first child only seven months old, Clift was frustrated. She and Johnston had just won a Sydney Morning Herald novel prize for their collaboration, High Valley. Clift recalled:
At this point I should have taken wings and started to fly but […] I was involved in having children […] I think those are terribly difficult years for any young woman and for a young woman who wants to write or paint or anything else, even more so.
After they moved to Kalymnos in 1954, she gratefully paid a local woman to help. She did the same on Hydra, when their third child was born on the island. Later, back in Australia, Clift applied for a literary grant for "domestic help".
Something has to give – and it's the housework or childcare, not writing, if they can afford it.
Others muddle through. A single mother, Garner grabbed precious school hours at a library to write her debut novel, Monkey Grip.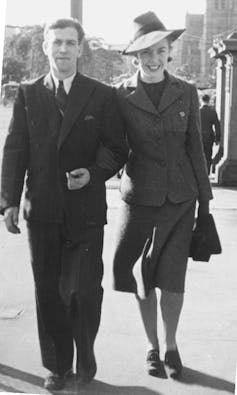 D'Arcy Niland and Ruth Park.
It is telling that Ruth Park wrote Harp in the South while visiting her parents in New Zealand, so had family help. Soon after its release, back in Sydney, her husband left for a research trip for his novel, The Shiralee, and she was left with the three children and no mother to help – Park couldn't afford childcare, despite her success.
She then devised the Muddle-Headed Wombat series while her now five children had chicken pox and D'Arcy was on another research trip. Park recalls,
I again pondered bitterly the question of which one of us it was who carried the Shiralee, which I now understood meant burden.
Domestic tensions are not restricted to childcare. Elaine Dundy's daughter, Tracy, had a nanny but Elaine still declined invitations to attend opening nights with her critic husband. Instead, she would stay home to write her novels. In response, Tynan was "embarrassed and angered" that his wife put her writing before appearances to support his work.
Garner writes that she was upset Bail did not welcome her now-adult daughter and fiancee at their home, seeing their presence as another imposition on his writing life. Nor did she feel free to "be messing around at home".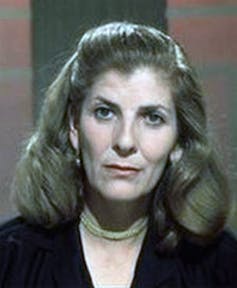 Elizabeth Jane Howard. Wikipedia
Prior to meeting Kingsley Amis, Howard, an established novelist, had left her first husband and daughter, Nicola, as she was "selfishly determined to be a writer". Nicola called her mother "a very beautiful stranger" in her childhood.
Ironically, Amis's own selfishness overwhelmed Howard's. She managed his moods and meals. She was his secretary and chauffeur and regularly catered dinner parties for up to 12 people where Amis could hold court, as well being a stepmother to her two stepsons, who lived with them.
Her complaints were met with Amis's decree, "I'm older, heavier and earn more money".
Morante did not have children, though Ciuraru suggests this was not by choice. While she adored children, Ciararu wonders if the reality would have been challenging given "daily life made her lose patience and become difficult".
Literary ambition
Fights over space and the kids set the scene for the most ferocious faultline: literary ambition. Ciaruru sums up the creative competition when describing Amis and Howard: "both were ambitious writers, only one could achieve success".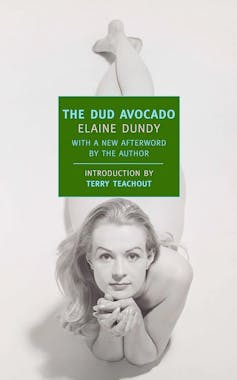 Tynan's toxic jealousy fully emerged after the successful release of Dundy's debut novel, The Dud Avocado, in 1958. "He confronted Elaine, warning if she ever dared to write another book, he would divorce her." She began writing a new novel the next morning. They divorced four years later in 1964.
Some literary couples share success – to a point. Though possessive of the table, Niland encouraged Park to write Harp in the South. Wheatley notes of Clift-Johnston: "one of the common misconceptions about the relationship was that Charmian was perennially jealous of George's output and success."
Similarly, Wheatley recounts that Johnston "recognised [his wife] as a fellow writer, and indeed for many years he even publicly acknowledged that by literary standards she was a better writer than he was."
According to Ciuraru, Moravia "spoke often and admiringly of Elsa's genius, no matter the state of their marriage", which he described as "a man and a woman in a very difficult, very personal relationship".
But sharing in success has its limits. After the Sponge Divers collaboration, Clift carved creative space of her own:
"Actually of course, [The Sponge Divers] was a phoney [sic] collaboration because I was beyond the stage where I could collaborate any longer. I wanted to work in my own way. This was probably very egotistical, but most writers have this."
As well as her Island memoirs and essays, Clift later published a novel, Honour's Mimic, under her own name.
Williamson, the author of Tanglewood and other novels, quotes David's reaction to her turning to creative writing from journalism: "Hey, this is my patch. But after I saw the work she was doing I was very impressed." She qualifies, "I was writing novels rather than plays – imagine If I had dared to write a play!"
But Kristin declares that she first thought of the idea for David's play, Siren, borne out of his affair: she planned to write it as a novel. The couple fought over the idea, arguing it was both their "lived experience". Kristin capitulated, but "felt somewhat bitter about it for a while". David later publicly gave her credit, and their marriage survived the literary explosion.
Vacating the field
Not so Garner and Bail. Her fifth work of fiction Cosmo Cosmolino, was published the year she and Bail married (1992). But during the marriage she published her first book-length work of non-fiction, The First Stone, and the anthology, True Stories.
As Bail wrote his novel, in her diary, Garner realises:
All this jabber I carry on with lately, about how I'm heading for non-fiction, leaving fiction behind […] suddenly it strikes me that what I'm doing is vacating the field.
Garner adds:
He is generous as he can possibly be about my book and its success, but if I had success like that with a novel there'd be serious trouble […] Maybe it is true then. A woman artist who wants to develop as far as she can needs to live alone […] The problem is that my success seems to get in his way.
The marriage ended in 1998, after Eucalyptus was published. Garner returned to fiction in 2008 with The Spare Room..
After divorcing Tynan, Dundy wrote two novels, as well as biographies of Elvis Presley's mother and Peter Finch. Howard's literary output also rocketed after divorcing Amis in 1983. She was encouraged by her stepson, Martin Amis, to write The Cazalet Chronicles, a series of novels that drew on her family story,that were later adapted for television as The Cazalets.
With all these faultlines, it's no wonder married authors keep their own names for continuous identity within and beyond a marriage. Morante "could not stand being called by her married name", and could not fathom how other women "could tolerate this elision of their identity".
Asked once in an interview if Moravia had influenced her work, Morante stiffened. "No," she said. "He has an identity and I have an identity. Basta."
She stopped the interview.

Kerrie Davies, Lecturer, School of the Arts & Media, UNSW Sydney
This article is republished from The Conversation under a Creative Commons license. Read the original article.