This week, Prime Minister Scott Morrison and Home Affairs Minister Peter Dutton announced the federal government's intention to introduce changes to Australia's citizenship-stripping laws. The proposed changes would likely make Australia's regime for citizenship-stripping the most expansive in the world. I'll outline how the proposal would change the current law, and analyse its key elements.
What are Australia's current citizenship-stripping laws?
In 2015, Australia introduced one of the most expansive regimes anywhere for citizenship deprivation on national security grounds. Under the current law, people can lose Australian citizenship against their will in two key ways:
Conduct-based citizenship deprivation: In certain circumstances, a citizen outside Australia can lose citizenship where the person has engaged in activities defined by reference to national security offences. A person does not need to be convicted of an offence to lose citizenship in this manner.

Conviction-based citizenship deprivation: The Minister for Home Affairs also has the power to revoke a person's Australian citizenship where the person has been convicted of particular national security offences, and sentenced to at least six years' imprisonment. This is generally the only way in which people within Australia can be stripped of Australian citizenship against their will.
Currently, it is possible for the government to strip a person of Australian citizenship only if the person is a dual citizen. This means that, at present, Australian law does not allow a person to be deprived of Australian citizenship if this would render them stateless.
Dutton has said that the existing citizenship-stripping laws have been used to deprive nine people of their Australian citizenship. Very little information on the circumstances of these deprivations is available. However, it is clear that at least six of these instances involved citizens outside Australia who lost their citizenship on the basis of conduct committed overseas. There has been no reported instance of a person within Australia being deprived of Australian citizenship, or of the conviction-based ground for citizenship deprivation having been used.
What changes would the proposed laws introduce?
The government's new proposal would make it easier for people to be stripped of their Australian citizenship in two ways.
Changes to the dual citizenship requirement
If the proposed changes become law, it will no longer be necessary for a person to definitively hold dual citizenship before losing Australian citizenship. A joint media release from the offices of Morrison and Dutton states:
The Government will…change the threshold for determining dual citizenship. This change aims to improve the minister's scope to determine a person's foreign citizenship status.
A bill has yet to go before parliament, and it is not clear from this statement exactly what the government envisages. One possibility is the legislation will give the minister the power to decide whether or not a person is a foreign citizen. This is likely to raise constitutional difficulties. As the High Court has made clear on many occasions, whether a person is a foreign citizen is a question determined by the law of the foreign country concerned.
Another possibility is that the legislation will allow a person to be stripped of Australian citizenship where the minister thinks it is reasonably likely, but not certain, the person has dual citizenship. As the recent referrals of multiple federal parliamentarians to the High Court over potential foreign citizenship illustrate, it can often be difficult to conclusively determine when a person has foreign citizenship. However, many people – including those born in Australia to Australian parents – hold dual citizenship as a result of a familial connection to a foreign country.
A change of this nature could also raise constitutional problems. The High Court has not yet determined the extent of the Commonwealth's power to deprive a person of Australian citizenship. There is a plausible argument that certain citizens, especially those who hold only Australian citizenship or who have no substantive connection to a foreign country, are part of the Australian constitutional community, and are protected against citizenship deprivation.
On a practical level, enabling the minister to revoke a person's Australian citizenship without it being clear the person has citizenship in a foreign country creates a very real risk of rendering the person stateless. This would place Australia in violation of its obligations under Article 8 of the 1961 Convention on the Reduction of Statelessness, which prevents signatory countries from depriving people of their nationality if it would render them stateless.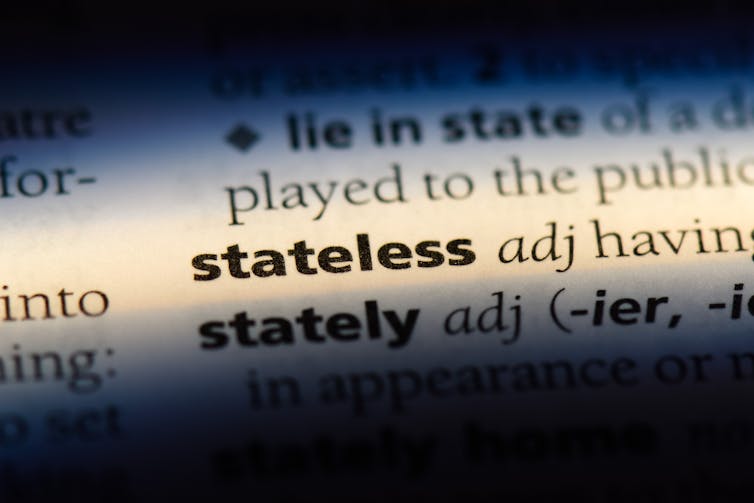 Australia has signed up to an international agreement not to render people stateless. Shutterstock
Where a person inside Australia is deprived of Australian citizenship they become vulnerable to removal from Australia, and immigration detention until removal is possible. Where it is not clear that the person has citizenship in a foreign country, there is a likelihood of such detention being lengthy, or even indefinite.
Changes to the minimum sentence for conviction-based deprivation
The government's media release also says:
The proposed changes would enable the minister to cease the citizenship of anyone who is convicted of a terrorism offence in Australia, irrespective of the sentence they receive. This removes the current requirement that a terrorist offender must be sentenced to at least six years' imprisonment.
Currently, the minister has power to revoke a person's citizenship only on conviction-based grounds where a person is convicted of a select list of national security offences. It is not clear whether the government intends to retain or expand this select list of offences.
Either way, the proposal is concerning. In 2015, before the current citizenship revocation laws were introduced, the Abbott government attempted to attach citizenship revocation to a much wider range of national security offences, with no requirement for a minimum sentence. A number of experts advised that this ran a risk of falling foul of the Constitution.
The more limited current legislation was ultimately arrived at following an inquiry by the Parliamentary Joint Committee on Intelligence and Security. It found that restricting the list of offences and requiring a minimum six year sentence was necessary to "appropriately target the most serious conduct that is closely linked to a terrorist threat". Since 2015, the national threat level has not changed.
In this context, the government should clearly explain why removing the six year sentence threshold for conviction-based citizenship deprivation is necessary and proportionate. Given that the conviction-based citizenship-deprivation powers have not been used since their introduction, the need for a clear justification is particularly strong. The government's media release states:
We now need to focus attention on strengthening the citizenship loss provisions which commenced in 2015 as they relate to terrorists within Australia, in order to protect our community.
As the Law Council has stated, this justification is not nearly strong enough.

Sangeetha Pillai, Senior Research Associate, Andrew & Renata Kaldor Centre for International Refugee Law, UNSW Law School, UNSW
This article is republished from The Conversation under a Creative Commons license. Read the original article.